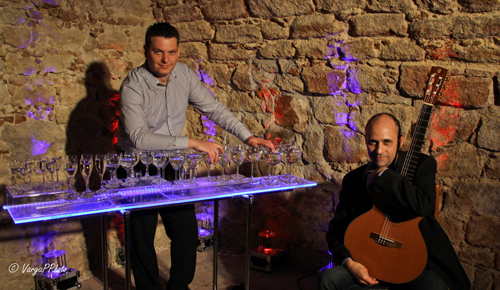 The Singing Glasses is an extraordinary musical production with hand-picked
glasses in the focus instead of traditional instruments.

The Singing Glasses production saw life in 2010. Bence, who has been a member of the Band since 2006, has always been attracted to crossover music, the blend of modern and traditional music; this style would warrant a production already in itself. Still, the reason why He is extraordinary is that the artist uses glasses filled with water to different levels to achieve different pitches.

Guitar
Janos attended the Jazz Department of the Bela Bartok Musical Secondary School and graduated as a jazz guitar teacher and musician at the Ferenc Liszt Music Academy.




Repertoire:
Louis Armstrong: It's a wonderful world, Mozart: Rondo Alla Turca Allegretto; Tavaszi szel (Hungarian folk song); Sway; Circus Renz; Frank Sinatra - My Way, Tears in heaven, La isla Bonita more instrumental songs and well-known movie songs.