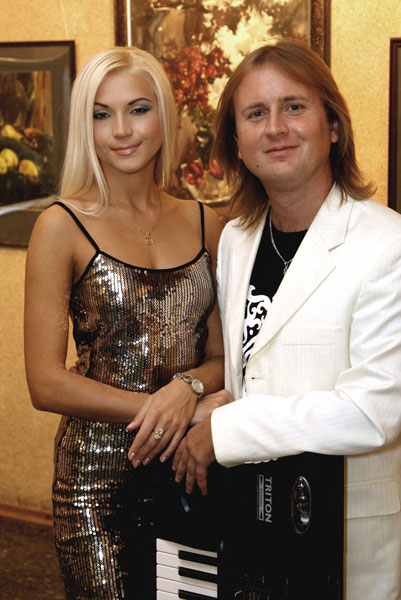 Female
Date of birth: 7.02.1979
Nationality: Ukrainian
Languages: Russian, English

Male
Date of birth: 15.04.1974
Nationality: Ukrainian
Languages: Russian, English

Education
Female: 2000-2005 Kharkiv University of Arts, Qualification: singer.
Male: 1995-2000 Kharkiv University of Arts, Qualification: pianist.

Work Experience
Female: 2004-2005 Kharkiv National Dramatic Shevchenko
01.12.2006 - 01.02.2007 contract with MSC Cruises (Italy) as Head line artist, solo singer
Female has performed in many ukrainian festivals and concerts as soloist.

Male: 2000-2001 Kharkiv Academy of Culture, accompanist
2002-2005 Kharkiv University of Arts, teacher
2006 Album release "CONTINIUM" with progressive rock band KARFAGEN in Canada (UNICORN RECORDS)
Male has also participated in many festivals and concerts as a soloist, laureate of the international competition of jazz musicians (2001)

Duet Experience
2003-2005 contract with different 5 star hotels in Turkey, music lounge duo
2002-2005 big festivals and concerts in Ukraine and Russia
2006 contract with Louis Cruise company (work on ships Serenade, Ivory, Thomson Destiny, Orient Queen)

Repertoire
The duo cover a wide variety of world styles from classical and jazz music to popular contemporary. Vocals in many languages (English, French, German, Greek, Italian, Spanish, Portuguese etc.)

STANDARDS (Ragtime, Blues, Stride, Swing, Bop, Ballad):

1.Angel Eyes (M.Dennis)
2.Round Midnight (T.Monk)
3.Summertime (G.Gershwin)
4.Don't Get Around Much Anymore (D.Ellington)
5.Lullaby Of Birdland (G.Shearing)
6.Nature Boy (E.Ahbez)
7.Autumn Leaves (J.Kosma)
8.My One And Only Love (R.Mellin & G.Wood)
9.Love For Sale (C.Porter)
10.All Of Me (Simons - Marks)
11.Gee Baby, Ain't I Good To You (D.Redman)
12.Misty (E.Garner)
13.My Funny Valentine (R.Rodgers)
14.Moonlight Serenade (G.Miller)
15.Sophisticated Lady (D.Ellington)
16.Choo Choo'Ch'Boogie (V.Horton,D.Darling & M.Gabler)
17.Four (M.Davis)
18.On The Sunny Side Of The Street (D.Fields & J.McHugh)
19.Fever (J.Davenport & E.Cooley)
20.Softly (S.Romberg)
21.Stella By Starlight (V.Young)
22.Lush Life (B.Strayhorn)
23.Yesterdays (J.Kern)
24.Beatiful Love (V.Young)
25.Satin Doll (D.Ellington - B.Strayhorn)
26.Moonlight In Vermont (K.Suessdorf - J.Blackburn)
27.Days Of Wine And Roses (H.Manchini)
28.Pink Panther (H.Manchini)
29.The Man I Love (G.Gershwin)
30.Caravan (H.Tizol - D.Ellington)
31.Hello Dolly (as sung by E.Fitzgerald & L.Armstrong)
32.Smoke Gets In Your Eyes (J.Kern)
33.Basin Street Blues (S.Williams)
34.But Not For Me (G.Gershwin)
35.That's All (A.Brandt & B.Haymes)
36.Willow Weep For Me (A.Ronell)
37.What's New? (B.Haggard)
38.Harlem Nocturne (D.Rogers & E.Hagen)
39.Body And Soul (J.Green)
40.My Romance (R.Rodgers)
41.Well You Needn`t (T.Monk)
42.Alone Together (A.Schwartz)
43.Lover Man (J.Davis)
44.I Got Rhythm (G.Gershwin)
45.Laura (J.Mercer)
46.Blue Moon (R.Rodgers)
47.In The Mood (J.Garland)
48.Chattanouga Choo Choo (H.Warren)
49.Mona Lisa (J.Livingston & R.Evans)
50.Straight No Chaser (T.Monk)
51.Honky Tonk Train Blues (M.Lewis)
52.Maple Leaf Rag (S.Joplin)
53.Original Rags (S.Joplin)
54.Night In Tunisia (D.Gillespie)
55.Bye Bye Blackbird (M.Dixon & R.Henderson)
56.Confirmation (Ch.Parker)
57.Yardbird Suite (Ch.Parker)
58.Your Mind Is On Vacation (M.Allison)
59.Honeysuckle Rose (T.Waller)
60.How High The Moon (N.Hamilton & M.Lewis)
61.Autumn In New-York (V.Duke)
62.Fly Me To The Moon (B.Howard)
63.Cry Me A River (A.Hamilton)
64.It Don`t Mean A Thing (D.Ellington)
65.What A Wonderful World (G.D.Weiss & B.Thiele)
66.Take Five (P.Desmond)
67.All The Things You Are (J.Kern)
68.On Green Dolphin Street (N.Washington)
69.Route 66 (B.Troup)
70.As Time Goes By (H.Hupfeld)
71.Sing, Sing, Sing (L.Prima)
72.Love Me Or Leave Me (W.Donaldson)
73.Night And Day (C.Porter)
74.I Left My Heart In San Francisco (G.Cory)
75.Mack The Knife (as sung by R.Williams)
76.Cheek To Cheek (as sung by L.Armstrong)
77.Take The "A" Train (D.Ellington)
78.In A Sentimental Mood (D.Ellington)
79.Bouncin With Bud (B.Powell)
80.Root Beer Rag (B.Joel)
81.Here's That Rainy Day (J.Van Heusen)
82.Georgia On My Mind (as sung R.Charles)
83.When The Saints Go Marching In
84.Sweet Georgia Brown (B.Bernie, M.Pinkard & K.Casey)
85.Charlston
86.In A Sentimental Mood (D.Ellington)
87.My Man's Gone Now (G.Gershwin)
88.Alice In Wonderland (S.Fain)
89.Begin The Beguine (C.Porter)
90.Blues In The Night (H.Arlen)
91.A Foggy Day (G.Gershwin)
92.Have You Met Miss Jones? (R.Rodgers)
93.I Love Paris (C.Porter)
94.I'm A Fool To Want You (F.Sinatra)
95.It Ain't Necessarily So (G.Gershwin)
96.Nice Work If You Can Get It (G.Gershwin)
97.Oh, Lady Be Good (G.Gershwin)
98.The Summer Knows (M.Legrand)
99.What Is This Thing Called Love? (C.Porter)
100.You And The Night And The Music (A.Schwartz)

BOSSA NOVA:

1.The Girl From Ipanema (A.C.Jobim)
2.Corcovado - Quiet Nights Of Quiet Stars (A.C.Jobim)
3.How Insensitive (A.C.Jobim)
4.Wave (A.C.Jobim)
5.No More Blues (A.C.Jobim)
6.Watch What Happens (M.Legrand)
7.Desafinado (A.C.Jobim)
8.Black Orpheus (L.Bonfa)
9.The Shadow Of Your Smile (as sung by A.Gilberto)
10.Basta De Clamares Inoc?ncia (as sung by E.Regina)

BOLERO:

1.Besame (L.Pinheiro)
2.Contigo En La Distancia (O.Guillot)
3.Obsession (D.Caymmi)
4.Green Eyes
5.Sway
6.Solamente Una Vez (A.Lara)
7.Chanson d'amour (O.Guilmot)

CHA CHA:

1.Guantanamera
2.Tea For Two (V.Youmans)

SAMBA:

1.Quando, Quando
2.One Note Samba (A.C.Jobim)
3.O Pato (J.Silva & N.Teixiera)
4.Brazil (A.Barroso)
5.S? Danco Samba (A.C.Jobim)
6.Mas Que Nada (S.Mendes)
7.Spain (Ch.Corea)
8.Agua De Beber (A.C.Jobim)
9.A Felicidade (A.C.Jobim)
10.Summer Samba (M.Valle & P.S.Valle)

RUMBA:

1.Spanish Eyes (as sung by E.Presley)
2.La Paloma (as sung by M.Mercury)

TANGO:

1.Kiss Of Fire
2.La Comparsita
3.Libertango (A.Piazzolla)
4.Oblivion (A.Piazzolla)
5.Petite Fleur (S.Bechet)

MAMBO:

1.Mambo #5 (D.P.Prado)
2.Mambo influenciado (Ch.Valdes)

PASO DOBLE:

1.Espana Cani

EVERGREEN SONGS:

1.Yesterday (Beatles)
2.The House Of Rising Sun (Animals)
3.Feelings (M.Albert)
4.Paradise (Sade)
5.This Masquerade (L.Russell & G.Benson)
6.Michelle (Beatles)
7.Killing Me Softly (as sung by R.Flack)
8.Venus (Shoking Blue)
9.One More Chance (as sung by Madonna)
10.My Heart Go On (as sung by C.Dion)
11.I'll Always Love You (as sung by W.Houston)
12.Woman In Love (as sung by B.Streisand)
13.Strangers In The Night (as sung by F.Sinatra)
14.Let It Be (Beatles)
15.I Feel Good (J.Brown)
16.Love Me Tender (as sung by E.Presley)
17.Superstition (S.Wonder)
18.Hit The Road Jack (R.Charles)
19.Baby, I Love You (as sung by A.Franklin)
20.My All (as sung by M.Carey)
21.Don't Know Why (as sung by N.Jones)
22.Sorry Seems To Be (Elton John)
23.Your Song (Elton John)
24.Just The Way You Are (B.Joel)
25.Besame mucho
26.Saving All My Love For You (as sung by W.Houston)
27.Shape Of My Heart (Sting)
28.Memory (A.L.Webber)
29.I Will Wait For You (M.Legrand)
30.I Will Survive
31.Sunny (Boney M)
32.Ney Nah Nah Nah (V.Con Dios)
33.Combio Dolor (N.Oreiro)
34.All At Once (as sung by W.Houston)
35.And I Love Him (Beatles)
36.Can't Buy Me Love (Beatles)
37.All My Loving (Beatles)
38.You Are The Sunshine Of My Life (S.Wonder)
39.I Just Called To Say ``I Love You`` (S.Wonder)
40.A Toi (J.Dassin)
41.Cabaret - from musical
42.Hotel California (Eagles)
43.The Winner Takes It All (ABBA)
44.La Bamba
45.I Don't Know How To Love Him (A.L.Webber)
46.Speak Softly Love - The Godfather
47.Nothing`s Gonna Change My Love For You (as sung by G.Benson)
48.Love Story - Un histuar d`amour (as sung by M.Mattieu)
49.La Isla Bonita (as sung by Madonna)
50.Smooth Operator (as sung by Sade)
51.Mama Maria (as sung by Richie & Poveri)
52.I Turn To You (as sung by Ch.Aguilera)
53.Antonio's Song (M.Franks)
54.Padam, padam (as sung by E.Piaf)
55.Mon mec a moi (as sung by P.Kaas)
56.Lady Madonna (Beatles)
57.Hey Jude (Beatles)
58.Get Back (Beatles)
59.Money money (ABBA)
60.Rivers Of Babylon (Boney M)
61.Come With Me To Pasadena
62.Bamboleio (Gypsy Kings)
63.I Need You (R.Black)
64.Non, je ne regrette rien (as sung by E.Piaf)
65.Lucky Lips (C.Richard)
66.You're My Heart (Modern Talking)
67.Cheri Lady (Modern Talking)
68.Happy New Year (ABBA)
69.Felicita
70.Stand By Me (B.King)
71.Something Stupid (as sung by R.Williams & N.Kidman)
72.New-York, New-York (as sung by F.Sinatra)
73.Dancing Queen (ABBA)
74.Goodbye My Love Goodbye (D.Roussos)
75.Raindrops Keep Fallin`On My Head (B.Bacharach)
76.Somewhere My Love (Maurice Jarre)
77.My Way (C.Francois & J.Revaux)
78.Perhaps (as sung by R.Williams)
79.And All That Jazz - from musical Chicago
80.Daniel (Elton John)
81.Nothing Else Matters (Metallica)
82.Obladi Oblada (Beatles)
83.Red, Red Wine (UB 40)
84.Take My Breath Away (G.Moroder)
85.Don't Cry For Me Argentina - from musical Evita (A.L.Webber)
86.Unchain My Heart (R.Charles)
87.Tears In Heaven (E.Clapton)
88.I Can't Stop Loving You (as sung R.Charles)
89.Wind Of Change (Scorpions)
90.California Dreamin`(Mamas & Papas)
91.Soli (A.Chelentano)
92.What'd I Say (R.Charles)
93.La vie en rose (as sung by E.Piaf)
94.Velocidade (as sung by C.Evora)
95.Volare - Nel Blu, Dipinto Di Blu
96.M'Lord (as sung by E.Piaf)
97.Blue Hawaii (as sung by E.Presley)
98.It's Now Or Never - O Sole Mio
99.You'll See (as sung by Madonna)
100.Mendocino (Sir Douglas Quintett)
101.Yellow Submarine (Beatles)
102.El Condor Pasa (J.Milchberg)
103.Europe (C.Santana)
104.Souvenir (D.Roussos)
105.Everybody Loves Somebody (K.Lane)
106.Fragile (Sting)
107.Thank You For The Music (ABBA)
108.Hello (L.Richie)
109.Who Wants To Live Forever (Queen)
110.How Deep Is Your Love? (Bee Gees)

COUNTRY & WESTERN:

1.Hello Mary Lou (Creedence)
2.Take Me Home, Country Roads
3.Green, Green Grass Of Home
4.Rocky Top (as sung by L.Anderson)
5.Have You Ever Seen The Rain (Creedence)
6.Please Release Me
7.Jambalaya (H.Williams)
8.Bad Moon Rising (Creedence)
9.Whose Bed Have Your Boots Been Under (as sung by S.Twain)
10.In Care Of The Blues (as sung by L.Lynn)
11.San Antonio Rose
12.On The Road Again (W.Nelson)

ROCK-N-ROLL:

1.Rock Around The Clock (B.Haley)
2.Blue Suede Shoes (as sung E.Presley)
3.All Shook Up (as sung by E.Presley)
4.Hound Dog (as sung by E.Presley)
5.Don't Be Cruel (as sung by E.Presley)
6.Blueberry Hill (as sung by F.Domino)
7.Can't Help Falling In Love With You (as sung by E.Presley)
8.Lucille (L.Richard)
9.Only You
10.Let's Twist Again

WALTZ:

1.Someday My Prince Will Come
2.Tenderly
3.Piano Man (B.Joel)
4.Bluesette (J.Thielemans)
5.Are You Lonesome Tonight (as sung by E.Presley)
6.Fascination
7.Tales From Vienna Wood (J.Strauss)
8.Sous le ciel de Paris (as sung by E.Piaf)
9.Tennessee Waltz
10.Edelweiss
11.Artist`s Life (R.Strauss)
12.Torno A Surriento

GERMAN:

1.Sierra Madre
2.Aber Dich
3.Rote Lippen Soll Man Kussen
4.Ganz in Weiss
5.1000 Mal Belogen
6.Sommerwind und Sonnenschein
7.Verlieben, Verloren
8.Griechischer Wein
9.Liechenstein Polka
10.Schon ist die Liebe im Hafen (Waltz)
11.Ein Walzer f?r Dich (W.Meisel)

GREEK:

1.Misirlou
2.Mono konta su
3.Liges kardiges agapune
4.Aspres kardeles
5.Enas filos irthe apopse
6.Anna dosmu gia na se
7.Na he hroma i monaksia
8.Den to mboris
9.Stalia, stalia
10.Omorfi poli
11.Ah agapi
12.Ta deilina

RUSSIAN:

1.Kalinka
2.Ochy chernye
3.Podmoskovnye vechera
4.Dorogoi dlinnoyu

CLASSICAL:

We have a wide reperoire of popular classic music (F.Chopin, J.Verdi, G.Puccini, K.Debussy, G.Gershwin etc.) -
vocal as well as piano solo pieces. We can give the full list if it necessary.