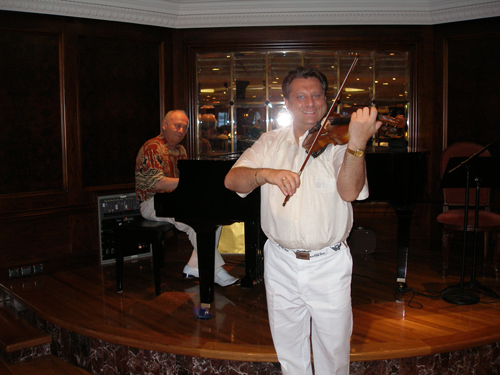 FLORIN
Birth Date: 18th of April 1968

Education:
(1976-1990) Certificated at "Popular Art School"
Music High School "George Enescu" from Bucharest- Romania

Experience:
Violonist "Bucharest Symphomy Orchestra",
Feb.1990-Aug.1993 "Oltenia Orchestra"from Craiova,

Oct.1993-Dec1996
The"Student's Orchestra"of Music Academy "Ciprian Porumbescu" from Bucharest

Aug 2011- Dec2011
With my own Duo for "Casino Palace and Casa Vernecu" Restaurant "Velvet" And also for coktail-parties for: Shell Romania Expl.B.V,ING-Bank Holland Banque Franco-Roumane,etc...

Nov.1997-Apr.1998 Royal Olympic Cruises. T.S.S. Stela Solaris

Oct.1998 -Feb.1999 Violonist with my Orchestra at "Las Dunas" Beach Hotel&Spa .one of the "The Leading Hotel of the World"

Apr.1999-May.1999
I was invited as a Violonist to Celebrate Companies 30 Years Annivresary at "Strand Plast" from Norway

Apr.2000-Dec.2000
Arcalia Shipping Co.Ltd

May.2001-Nov.2001
Costellation Cruise Holding S.A. M/V. Arion. as Show Violonist

Apr.2002-Oct.2002 Celebrity Cruises Inc.

Apr.2003-Ian.2004
M/V.Zenith,With my own Duo

May.2007-Sep.2007
Pullmantur Cruises Ltd. M/V.Blue Moon
Show Violinist

Mar.2008-Iul.2008
M/V.Empress. Pullmantur Cruises Ltd.
Show Violinist

Ian.2008 - Aug 2010
National Radio Orchestra -Violinist

Jun 2011 - Jul 2011
Special Act - Violonist for M/V. Princess Danae

Aug 2011 - Dec 2011
Trio & Special Act for Casino Palace & Casa Vernescu





Classical Duo Violin - Piano & Accoredon
Our repertory is vrey huge that include Cafe - Concert , Clasic music , Jazz , Ball rom music,tango , latino, east european gipsy style.