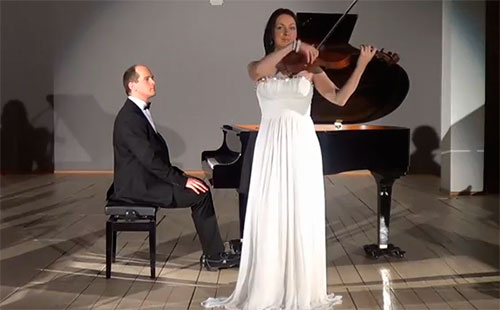 The Duo consists of violin(viola) + piano(keyboards).



CLASSIC
F.Chopin nocturne F-dur op.15
F.Chopin - expromt-fantazy
C.Debussy etude As-dur
C.Debussy Clair de lune
S.Rachmaninov etude-tableau D-dur op.39
S.Rachmaninov musical moment e-moll
Schumann-Liszt love dreams
R.Schumann - Sonate g-moll
N.Rimsky-Korsacoff the flight og the bumble bee
F. Liszt - Hungarian Rhapsody 2
I.Brahms - Ballad op.118
Tchaikovsky-Pletnev - Andante-maestoso
Mozart-rondo ala turka
L.Bethoven - For Elise
L.Bethoven - Moonlight sonate
Bach- Ave Maria
Camille Saint-Saens. Swan
Manuel Ponce. Estrellita
Nikolai Rimsky-Korsakov. Flight of the Bumblebee
Antonio Vivaldi. The concert series "The Seasons"
Sergei Rachmaninoff. Vocalise
Wolfgang Amadeus Mozart. Concerto
Alexander Glazunov. Concerto
Pyotr Ilyich Tchaikovsky. Concerto
Ludwig van Beethoven. Sonata
Johannes Brahms. Sonata
Pyotr Ilyich Tchaikovsky. Seasons.
Wolfgang Amadeus Mozart. Concerto 23
Robert Schumann. Concerto
Claude Debussy. In the boat
Claude Debussy. Girl with the Flaxen Hair
Claude Debussy. Very slow waltz
Franz Liszt. Dreams of Love
Antonin Dvorak. Humoresque
Antonin Dvorak. Gypsy song
Johannes Brahms. Hungarian Dance 1
Johannes Brahms. Hungarian Dance number 2
Johannes Brahms. Hungarian Dance 5
Fritz Kreisler. Syncopation
Fritz Kreisler. Pangs of Love
Fritz Kreisler. The joy of love
Fritz Kreisler. Beautiful rosemary
Fritz Kreisler. Little Viennese march
i Monti. Czardas (acoustic version)
Johann Sebastian Bach. Aria
Johann Sebastian Bach. Ave Maria
Christoph Gluck. Music from the opera "Orpheus and Eurydice"
Tchaikovsky. Melody
ADAGIO - T. Albinoni
ALLEGRO - J.H. Fiocco
ANDALUSIAN ROMANCE - P. Sarasate
ANITRA'S DANCE - E. Grieg
ARIA - A. Aleksandrov
ARIA FOR STRING G - J.S. Bach
AVE MARIA - F. Schubert
AVE MARIA - J.S. Bach - Ch. Gounod
CARMEN-PHANTASIE - G. Bizet
CAVATINA - J.J. Raff
CHANSON TRIESTE - P. Tchaikovsky
CZARDAS - V. Monti
EINE KLEINE NACHT MUSIC - W.A. Mozart
FOR ELISE - L.van Beethoven
HOPAK - M. Musorgski
HUMORESQUE - A. Dvorak
HUNGARIAN DANCE NO.5 - J. Brahms
INTERMEZZO - R. Schumann
KUJAWIAK - H. Wieniawski
LARGHETTO - G.F. Haendel
LARGO - Haendel
LEGEND - H. Wieniawski
MAZURKA - F. Chopin
MAZURKA - F.Chopin
MELODY - Ch.W. Gluck
MELODY - I. Paderewski
MENUET - L. Boccherini
MENUET ES - L. van Beethoven
MOONLIGHT SONATA - L. van Beethoven
NOCTURNE - A. Khachaturian
PARYS SONG - J. Offenbach
ROMANCE - D. Shostakovich
ROMANCE - L. van Beethoven
RONDO ALLA TURCA - W. A. Mozart
ROUMANIAN FOLK DANCES - B. Bartok
ROXANA'S SONG - K. Szymanowski
SERENADE MELANCHOLIC - P. Tchaikovsky
SICILIANA - J.S. Bach
SONATA D-MOLL - J. Brahms
SOUNDS OF SPRING - J. Strauss
SPRING - (from "Four Seasons") - A. Vivaldi
TAVASZI HANGOK - FRUHLINGSSTIMMEN - J.
THE BLUE DANUBE - J. Strauss
THE DREAM - R. Schumann
VIENNA BLOOD - J. Strauss
WALTZ - A. Khachaturian
WALTZ - J. Brahms
WALTZ - S. Prokofiev

Jazz and popular music

Igor Frolov. Scherzo
Igor Frolov. Dansa Latina
Ior Frolov. Play in the style of "Blues"
George Warren. Road to the Chattanooga Choo-choo
Jascha Heifetz. Prelude on Gershwin from "Porgy and Bess"
Jerome Kern. Smoke ("Smoke Covers Your Eyes")
George Gershwin. My love ("The Man I Love")
Duke Ellington. I'm unhappy ("I Got It Bad")
Victor Young. Stella by starlight
Harry Revel. This is the calm in my love ("There's A Lull In My Love")
Thad Jones. A child ("A Child Was Born")
Jules Stein. What happened to us in the summer, I'll remember all winter long
James Van Hughes, Johnny Burke. Dress with polka dots and moonbeams
Antonio Carlos Jobim. I loved one ("Once I Loved")
Ralph Ranger. Easy Life ("Easy Living")
George Meyer. For the sake of heaven ("For Heaven's Sake")
Robert Hanley, Charlie Parker. Indiana - Donna Lee
Thelonious Monk. Around midnight ("Round About Midnight")
Constantine Dubenkov. San Francisco Bay Area

A NIGHT IN TUNISA - F. Paparelli & J. Gillespie
AS TIME GOES BY ( from "Casablanca" ) - H. Hupfeld
AVE MARIA - A. Piazzolla
BESAME MUCHO - C. Velazquez
BLACK ORFEUS - A.C. Jobim
BLUE MOON - L. Hart & R. Rodgers
CARAVAN - D. Ellington & I. Mills
CORCOVADO - A.C. Jobim
CRY ME A RIVER - A. Hamilton
DESEFINADO (Slighty out of tune) - A. C. Jobim
DON'T EVER LEAVE ME - O. Hammerstein & J. Kern
DON'T GET AROUND MUCH ANYMORE - D. Ellington
DREAM A LITTLE DREAM OF ME - W. Schwandt & F. Andre
EARLY AUTUMN - R. Burns & W. Herman
EMBRACEABLE YOU - G. Gershwin
ENDLESS LOVE - L. Richie
EVERYBODY LOVES SOMEBODY - I. Taylor & K. Lane
FLY ME TO THE MOON - B. Howard
GEORGIA ON MY MIND - H. Carmichael
GIRL FROM IPANEMA - V. de Moraes & T. Jobim
HAVAH NAGILAH
HIT THE ROAD JACK - P. Mayfield
HOW HIGH THE MOON - M.Lewis
HOW INSENSITIVE - A.C. Jobim
I CAN'T GIVE YOU ANYTHING BUT LOVE - J. McHugh
I GOT RYTHM - G. Gershwin
I WILL WAIT FOR YOU - M. Legrand
IN A SENTIMENTAL MOOD - D. Ellington
JEALOUSY - J. Gade
LA VIE EN ROSE - Louiguy
LAURIE - B. Evans
LIBERTANGO - A. Piazzolla
LOVE STORY - THEME - F. Lai
LULLABY OF BIRDLAND - G. Shearing & G.D. Weiss
MICHELLE - J. Lennon & P. McCartney
MISTY - E. Garner & J. Burke
MOON RIVER - H. Mancini
MY FUNNY VALENTINE - R. Rodgers
MY ROMANCE - R. Rodgers
MY WAY - C. Francois & J. Revaux
O SOLE MIO - E. di Capua
OBLIVION - A. Piazzolla
OH, LADY BE GOOD - G. Gershwin
ON THE SUNNY SIDE OF THE STREET - J. McHugh
ONE NOTE SAMBA - A. C. Jobim
OVER THE RAINBOW - H. Arlen
PRELUDE TO A KISS - D. Ellington
SATIN DOLL - D. Ellingtom
SENZA FINE - G. Paoli
SMILE - Ch. Chaplin
SOME DAY MY PRINCE WILL COME - F. Churchill & L. Morey
SOMEBODY LOVES ME - G. Gershwin
SOMEONE TO WATCH OVER ME - G. Gershwin
SOMEWHERE MY LOVE ("Doctor Zhivago") - M. Jarre
STRANGER IN PARADISE - A. Borodin
STRANGERS IN THE NIGHT - B. Kaempfert
SUMMERTIME - G.Gershwin
TANTI ANNI PRIMA - A. Piazzolla
TEA FOR TWO - V. Youmans
TENDERLY - W. Gross
THE ENTERTAINER - S. Joplin
THE MAN I LOVE - G. Gershwin
THE NEARNESS OF YOU - N. Washington & H. Carmichael
THE SHADOW OF YOUR SMILE - P. F. Webster & J. Mandel
THEME FROM NEW YORK, NEW YORK - J. Kander
THEME FROM SCHINDLER'S LIST - J. Williams
TICO - TICO - Z. Abreu
UNFORGETTABLE - I. Gordon
WAVE - A.C. Jobim
WHAT A WONDERFUL WORLD - G. Douglas & G.D. Weiss
WHEN I FALL IN LOVE - V. Young
WHEN YOU WISH UPON A STAR - L. Harline
WHISPER NOT - B. Golson
YESTERDAY - J. Lennon & P. McCartney
YOU ARE SO BEAUTIFUL - B. Preston

JAZZ favorite american jazz standards and tunes...