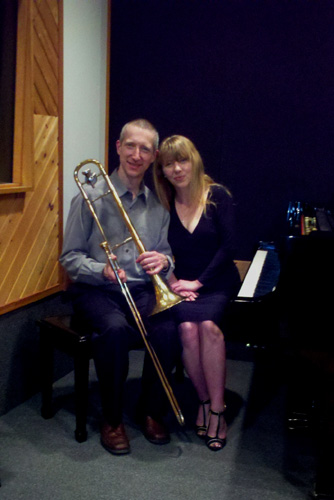 A unique piano/voice and trombone duo, with remarkable class and the highest level of musicality and
professionalism.

Pianist/Singer is described as "one of the West Coast's best kept secrets",
"a hard-swinging, inventive pianist" (LA Times). "Her playful voice has an easiness to it, like a soft, Brazilian white-sand beach at sunrise" (OC Register).

A graduate of McGill University (Montreal), She spent time in New York City as a recipient of a Canada
Council for the Arts grant, and has an established career as both a sideperson and a leader, with three critically acclaimed CDs on the market.

Trombonist is a passionate player and instructor, and has toured extensively with nationally known artists such as the Tommy Dorsey Orchestra, Spinners, Fifth Dimension, Temptations, and the
Platters. He studied at Berklee College of Music in Boston.

Together, they have a history of consistent performances at venues regionally and internationally, hotels,
cruise ships, jazz series, festivals, and private events. Venues include Panta Rei in Milan, Italy, Crowne
Plaza LAX and Disney Dream.