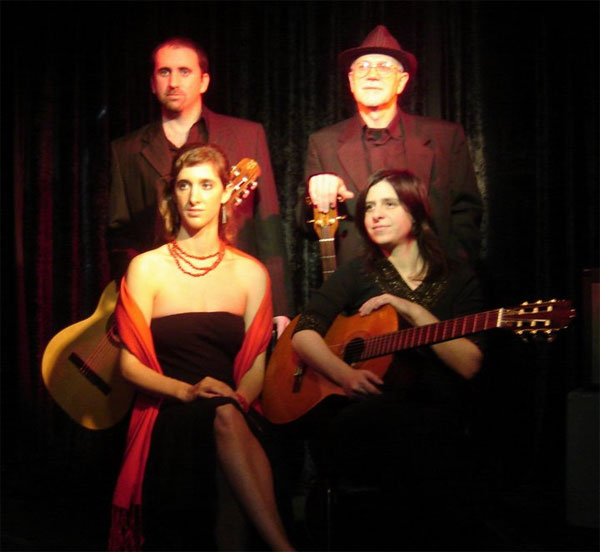 "F."
Date of birth: November 22.1979
Although her youth and little experience she has performed at professional level due to her musical education.
She has played and worked wit many well known Jazz and Tango musicians in Buenos Aires also she can play a great variety of music satyles like Bossa nova and Bolero hmong others.

"M."
Date of birth: December 31st 1976
As a Sideman and Front man musician he has performed a lot of recordings facing many different styles of music like Jazz, Bossa nova, Bolero, Classic and Tango among others.
Guitar player and Arranger of the "Centro de Estudios Brasileños" in Buenos Aires and Brasil doing a lot of shows and recordings since 2005.
Shows at Restaurants, Bars, Private parties, Theatres, Government Palace, Radio and TV shows.

"C."
Date of Birth: Jan 1st 1980
Main Performances Four Seasons Hotel; Palermo Racecourse Casino; Club Mat, Sounds in the Rose garden Festival; Frida Kahlo Restaurant; Montezuma, Costa Rica (Playa de los Artistas Restaurant, Playa de las Manchas Resort); Punta del Este, Uruguay (Maldonado and Piripapolis Theaters, restaurants, hotels and bars); Social Clubs in Gualeguay, Entre Ríos.
Shows in Restaurants and Pubs. Private parties and Corporate Events. Hired for several Entertainment Agencies in Buenos Aires.
Recordings: Brazilian Music: Samba, Bossa Nova, MPB (Brazilian Popular Music); Jazz; Bolero; Afro-Latin-American music; Tango; Chill Out; Pop.
Studies: 1999- 2007. Private teachers: Livia Barbosa, Victoria Zotalis (Jazz, Rabine Method), Mónica Salmaso (MPB, in Brasil)
1998-2001: Piano Career in Santa Ana Conservatory.
2003-2004: Popular Brazilian Music Seminar in Curitiba, Brasil (Oficina de MPB de Curitiba)
2004-2008: "Reading and Writing Music through Perception Method" with María del Carmen Aguilar.
Languages: English ,Portuguese, Spanish.

"R."
Jazz Festivals: Mendoza Jazz and Blues Festival, Buenos Aires Subway Jazz festival, Buenos Aires jazz and other music styles, Historical Sarmiento Museum, San Martin de los Andes, Bariloche, El Bolson Jazz Festival and many others all around the country with my own jazz quartet and as a sideman musician
Hotels: Howard Johnson Pilar, Intercontinental Buenos Aires, Sheraton Buenos Aires, Four Seasons Recoleta, Kempinsky
Shows in Restaurants and Pubs. Private parties and Corporate Events. Hired for several Entertainement Agencies in Buenos Aires and all over the country .
Records with many Singers and front Musicians in Jazz, Blues, Pop music and many other styles like Bolero, Bossa Nova, Tango etc.
Most Important Singers and Musicians I worked with: Silvia Fernandez, Sara Goldberg, Sofia Taylor, Walter Malosetti, Pocho Lapouble, Jorgelina Aleman, Saul Cosentino, Marcelo Mayor
Studies: Bass Player Career at the Walter Malossetti Jazz School. Clinics with private teachers and with National and International well known bass players.
Gear: Fender Precision bass, Fender Jazz bass fretless/fretted, Music Man Sting Ray, Demonte Acoustic fretless.
Amps: Peavey Mark III, Combo Kustom KBA 65/
Languages : English, Spanish.

SONGS LIST

This is a list of the more common and well known songs in our repertoire. Many of these songs can be performed with or without vocals;

"Jazz"

All of me – As time goes by – Autumn leaves – Blue moon – Cheek to cheek – But not for me – Fever – Fly me to the moon – Just friends – Love me or leave me – Summertime – Some day my Prince will come – Tea for two – There will never be another you – All Blues – All the thing you are – Blue Bossa – Days of wine and roses Cantaloupe Island – Blue monk – Don't get around much anymore – Doxy – Green Dolphin street – Perdido – Saint Thomas - Summertime – Wave – Sweet Georgia brown - Georgia on my mind – Impressions - Blues for ike - The shadow of your smile .So what – Freddy freeloader.

"Swing era"

Lady be good – Perdido - .Minor swing - Les deux noirs– Lesfeulles mortes –. – Nauges - Swing 42 - Montagne sainte - genevieveValse -Rosenthal Troublant bolero - Bossa dorado. - .Rag de la calle 1 - Out of nowhere - Anything goes - .Night & day. - Limohouse blues - .Djangology - :Rose room. - I´ll see you in my dreams - .Undecided Poor Buterfly – On the Sunny side of the Street.
"Brazil Bossa nova"
Desafinado – Aguas de Marzo – Eu sei que vou te amar – Meu bem meu mal – Garota do Ipanema – Corcovado – Insensatez – Wave – Triste – Tristeza – Samurai – A felicidade – Que maravilla – One note Samba – Samba do Verao – Flor de lis – Agua de beber – Desde que o samba e samba – Mais que nada – Samurai – Sonho meu - .Brasilerinho - Tico-tico no fubá - - Manha de carnival

"Tango and Milonga"

.Malena - .Por una cabeza - Naranjo en flor - Nostalgias. – Uno – Afiches – Sur – Garúa - Los mareados - Corazón al sur - La ultima curda – Volver - El choclo. - La comparsita - Palomita blanca - Ilusión de mi vida - El dia que me quieras - Taquito militar. – Nocturna - Romance de barrio - .Milonga de mis amores - El esquinazo - Quiero ser tu sombra – Ventarrón - El porteñito – Caminito - Mano a mano
.Mi buenos Aires querido.

"Boleros and Spanish Songs"

Algo contigo – Besame mucho – Capullito de Aleli – Fina estampa – La Barca – Piel Canela – Sabor a mi etc.