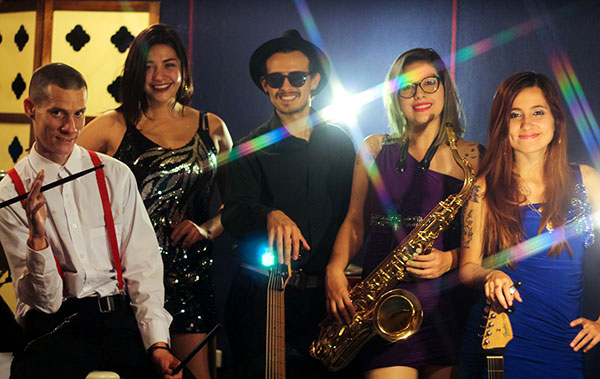 Band has played in different private and corporative events besides multiple bars and pubs in Bogota such as: Joshua Irish pub, Calima Mall, Centro Mayor Mall, Gran Estacion Mall, Salitre Plaza Mall, Titan Plaza Mall, Diver Plaza Mall, Theatron disco, Minos Bar, Movich Hotels. We also have played in other cities in Colombia like Pereira, Neiva, Cartage-
na.

GABRIELA
She is 21 years old
Influenced by musicians like Amy Winehouse and bands, she wants to make sure her voice comunicates the real meaning of the songs she sings, making


Steffi
Singer and saxophonist in pop, electro, rock and jazz genres.
A fan of pop and TV series that brings the share of image and style, in addition to their always penetrating sax solos that leave many out of breath.


PAOLA
Talented guitarist and composer who impresses where she goes.
From the pallets he has gathered a number of stories of bars and cafes Bogota while he gives himself in soul and body to interpret his instrument. It is this lover of Punk Rock and the glorious 80's


Juan
Bassist and producer of the band.
Passionate about good lyrics, acoustic versions and digital consoles. Groove and the good vibe define it. These qualities and their particular ability for sound engineering make it a key element for the band's compositional and interpretive balance


Jean
Venezuelan drummer with warrior spirit resi dent in Bogota since 2010.
He belonged to a large number of Colombian-Venezuelan bands, among them Llave de Fuego. He is the charis matic man of the public relations and the soul of the shows of the band.