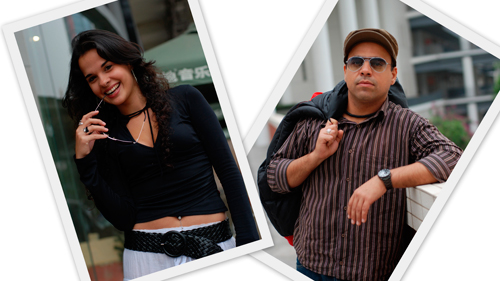 The Br C. band is made up of vocals, bass guitar, guitar and drums. Their set list encompasses songs of traditional Brazilian artists, such as Djavan, Gilberto Gil, Caetano Veloso, Tom Jobim, Ary Barroso, Raul Seixas, Carmem Miranda, Elis Regina, Rita Lee, Marisa Monte and Ivete Sangalo. International classic/modern pop/rock singers and bands they cover include: Phil Collins, Credence, Beatles, James Brown, Queen, Eagles, The Police, Toto, Yes, Jamiroquai, Maroon 5, Aretha Franklin, Michael Jackson, John Legend, Kylie Minogue, Gloria Gaynor, Donna Summer, Ray Charles, Temptations, Jennifer Lopez, Black Eyed Peas, Michael Buble, Gloria Stefan, Santana, Corinne Bailey Rae, Joss Stone, The Pussycat Dolls, Celia Cruz, Rick Martin, Juanes, Bacilos, Mana, Gipsy Kings and many others.

Experience
September 2004 - March 2005 tour throughout China:5 star hotels and nightclubs, such as, Dream Hollywood (Suzhou), Mayfair Hotel (Shanghai), B. Boss Club (Guangzhou) and China City Pub (Xian).
2007 Macau, performance at the Lusofonia Festival
July 2007 - July 2008 performed at some of the best venues in Shenzhen, such as, V Bar (Crowne Plaza), The Terrace, U Bar, Tea Stream Valley, True Color, Kempinski Hotel, Musibase bare.
2009 Celebrity Infinity ship: Fort Lauderdale (USA), Key West (USA), Cayman Islands (Bahamas), Cartagena (Colombia), Panama Canal, Lima (Peru), Valparaiso and Punta Arenas (Chile), Ushuaia and Buenos Aires (Argentina), Punta Del Este and Montevideo (Uruguay), and Montego Bay (Jamaica).