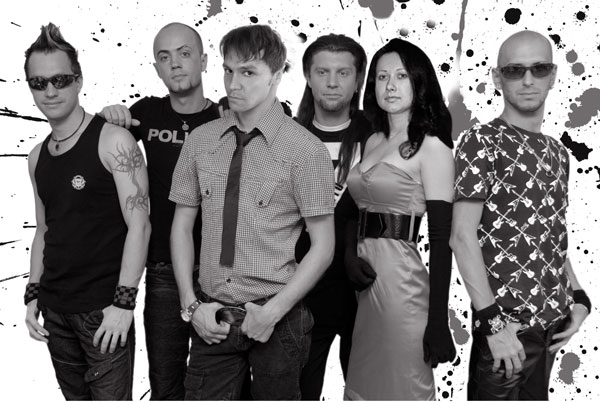 The band formed in July, 2006. Its six members have diverse, collective, experience from the Polish Philharmonic Jazz orchestra to the hottest nightclubs of Warsaw. The band played an extensive contract in Taiwan where they incorporated Taiwan and Chinese compositions into their repertoire. They played "Parliament hall" in Belarus and recently returned from a six month tour of Dubai.

M.
During the study on a choral faculty of music school, M. has been a soloist of the national ensemble. Since fifteen years old after graduate of music school, she get entered to the hard rock band. Many times she get a high places on a festivals and competition between singers and musicians, one of them "Star way" international festival in Volgograd and "Osvold" Latvian festival. As experience M. get a lot of elite clubs and restorans such as "Romeo" club, "Golden Night", "Mulen Ruj", casino "Faraon" itc. Since May 2008 during 6 months has performed in "Mamotaro" club- Hiroshima, Japan. M. has a perfect command of English and basic on Japanese.

V.
V. is the guitarist and band leader of the band. V. began on accordion as a child and moved to guitar as a teenager. As a young man, V. served a compulsory term in the military where he was assigned in the army orchestra. After which he entered the Grodno State college of Art, majoring in guitar. He performed in a number of bands prior to band.

A.
Anton plays the keyboards. Born to a musical family, he got started at the home piano and went on to his path of education in a children's musical school in class of piano. Later Anton served in army, and as V., he was assigned to the military ensemble orchestra. Leaving the service, Anton played a number or bands, "New Border", "Dream Theater" and "Medea" until finding his permanent home with the band.

V.
V. , Bass guitarist, started on guitar at 16. He became a member of the band "Ayforiya". He entered the Grodno State College of Art, majoring in bass guitar. Upon graduation, V. went to Poland, where he played in Warsaw and Krakow clubs. And in 2006 became a member of "M Drive band".

D.
D. is the drums behind the band. In school he took part in choir and guitar. Entering Grodno State College of Art, he majored in drums. D. was introduced to Jazz and played in bands like "The Post", "Gravitsappa" and in the college orchestra. After graduation, D. worked in the Grodno Philharmonics Big Band, managed by Boris Myagkov, as a drummer and percussionist.

A.
A. began to take part on the opera stage in the academy field. A. began to sing in the famous stages of his region. In 2003 he entered the State Institute of Arts. A. he took part in many live TV shows and festivals, such as, "The music of our city", and "The silver voice". At the same time A. worked in prestigious clubs, "Mega Galaxy", "Loader", and "Manhattan club". A. joined the band in 2007.





AC/DC - High way To Hell
AEROSMITH - Don't wanna miss a thing
ALLANIA MYLES - Black velvet
ALANIS MORISETTE - You Out a Know
ANASTACIA - Sick & Tired
ASHLI SIMPSON - L.O.V.E.
ASHLI SIMPSON - La-La
BAD COMPANY - All Right Now
B-52 - Love Shack
BEATLES - Back in USSR
BEATLES - Ob-la-di, Ob-la-da
BEASTY BOYS - Fight For Your Right
BILL HALEY - Rock Around The Clock
BLACK SABATH - Paranoid
BLONDIE - One way Or Another
BOB MARLEY - No woman no cry
BOB MARLEY - Could you be loved
BODYROCKERS - I like the way you move
BON JOVI - Have a nice day
BON JOVI - It's my life (Acoustic)
BON JOVI - It's my life
BONNIE TYLER - Heartache
BRYAN ADAMS - Please forgive me
BRYAN ADAMS - Summer of 69
CHRIS REA - Road To Hell
CHUCK BERRY - You never can tell
CHUCK BERRY - Johnny B. Good
CRANBERRIES - Zombie
CREED - Sacrifice
DEEP PURPLE - Smoke on the water
DEEP PURPLE - Soldier Of Fortune
DIRE STRAITS - Money for nothing
DOOBY BROTHERS - Long Train Turning
DOWN PENNY - You Don't Love Me
EAGLES - Hotel California
EDITA BARTOSHEVICH - Jenny
ELTON JOHN - Crocodile rock
ELTON JOHN - I want love
ELTON JOHN - Sorry seems to be
ELVIS PRESLEY - A little less conversation
ELVIS PRESLEY - Blue suede shoes
ERIC CLAPTON - Cocaine




EVANESCENCE - Bring me to life
4 NONE BLONDES - What's up?
FIVE - We will rock you
GLORIA GAYNOR - I Will Survive
GUANO APES - Big in Japan
GUNS & ROSES - Sweet Children Mine
GUESS WHO - American Woman
GWEN STEFANIE - The sweet escape
H.I.M. - The sacrament
H.I.M. 'Join me
H.I.M. - Rip Out The Wings Of A Butterfly
HOOBASTANK - The reason
JAMES BLUNT - Beautiful
JAMES BLUNT - So long Jimmy
JAMES BROWN - Hit The Road Jack
JOAN JETT - I love Rock'N'Roll
JOAN OSBORNE - One of us
JOE COCKER - Can leave your hat on
JOE COCKER - Unchain my heart
KATRINA & THE WAVES - Walking On Sunshine
KISS - Rock N Roll All Night
KELLY CLARKSON - Behind these hazel eyes
KENNY WAYNE SHEPPARD - I find love
lENNY KRAVITZ - Fly Away
LINYRD SKYNYRD - Sweet home Alabama
LIONEL RICHIE ' Hello
LOU BEGA - Mambo 5
MAROON 5 - Makes me wonder
MAROON 5 - This love
MELISSA ELDERIDGE - Like The Way I Do
METALLICA - Nothing else matters
METALLICA - Enter sandman
MEREDITH BROOKS - Bitch
MOLOKO 'Sing it back
MR.BIG - Wild world
NELLY FURTADO - Man eater
NELLY FURTADO - Spayed right
NICKELBACK - How you remind me
NO DOUBT - Hella Good
PAUL CLESS - Suavemente
PINK FLOYD - Another brick in the wall




PINK - Just like a pill
PINK - Get this party started
QUEEN - Another One Bites The Dust
REPUBLIKA - Drop, Dead & Gorgeous
R.E.M. - Losing my religion
RASMUS - In the shadows
RICKY MARTIN ' Living ' la Vida loca
RICKY MARTIN - She bangs
RIHANNA - Shut up & drive
RIHANNA - Umbrella
ROBI WILLIAMS - Feel
ROLLING STONES - Satisfaction
ROLLING STONES - Anybody Seen My Baby
RUSLANA 'Wild dance
SAM BROWN - Stop
SANTANA - Black Magic Woman
SANTANA - Oe Co Mo Wa
SANTANA & CHAD KROEGER - Into the night
SANTANA & ROB THOMAS - Smooth
SEX PISTOLS - Anarchy In U.K.
SHAKIRA- Objection
SHANIA TWAIN - Getcha good
SHANIA TWAIN - Ka-ching
SHANIA TWAIN - Man! I feel like a woman
SHERIL CROW - If it makes you happy
SHOKING BLUE - Venus
SMOKIE - Living next door to Alice
SOPHIE E. BEXTOR - Murder On A Dance Floor
STEAVE RAY VAUGHN - A Little Lamb
STEPENWOLF - Born To Be Wild
TEXAS - I Don't Want A Lover
THE BODY ROCKERS - Round & round
THE DOORS - Light My Fire
TIMBALAND 'Way I are
TINA TURNER - Simply the best
TOM JONES - Sexbomb
TWISTED SISTER - Not Gonna Take It
VAN HALEN - Pretty Woman
WHETUS - Tin age Dirt bag
WILL - Can't take my eyes off of you
ZZ-TOP - La Grunge