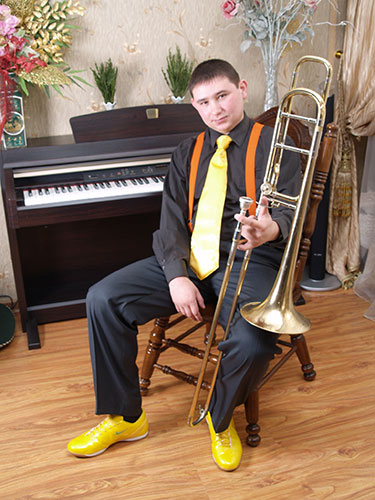 Male:
(trumpet,flugelhorn,vokal)
DOB-1984.
height 184 cm
weight 110 kg

Education:
1999-2003 College of Glier.

Experience:
from 2005 to 2010, he worked in the military band
2010 worked in Germany(Phantasialand)
2011-2012 France the music hall Royal Palace Kirrwiller


Male:
(trombone)
DOB-1987.
growth 178
weight 80.

Education:
National music Academy Chaykovsky

Experience:
2006-2015 national band


Male:
DOB-1967
growth 175
weight,95

Education:
Glier College 1987-1991

Experience
Evropapark,Hollyday park(Germany)


Male:
(clarinet,saxophone)
DOB-1981
height 175
weight 85kg.

Experience
2000. Municipal wind orchestra, Kyiv
2001-2004 .Folk.ensemble
2004-2015. Academic song and dance ensemble of MIA of Ukraine



Male:
(drums,percusion)
height 172
weight 77 kg.
DOB-1982

Education:
1998-2002 college of Glier

Experience:
bands 14 yars, dixiland 8 years.