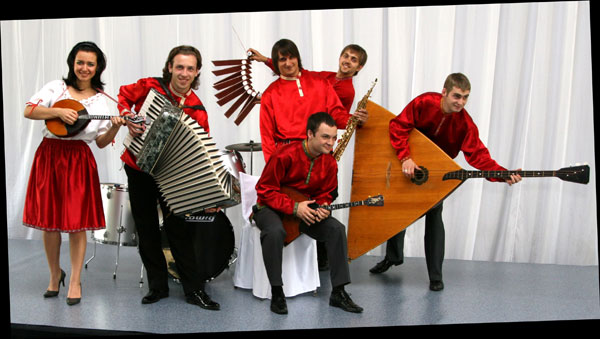 Show Program
Classic Music: combination of Russian folk instruments and saxophone. Additionally, this show can include an opera soloist of The Saint-Petersburg Mariinsky Theatre.

Masterpieces Of World Jazz. Additionally, this show can include a jazz vocalist.

Russian Folklore Show in Russian national folk costumes. Additionally, this show can include male and female vocals - soloist to ensemble); folklore dances - duets to dance ensembles); for the Russian Folklore Show.

World Popular Music

Rhythms Of Latin America

Music Of Passion (Tango). Additionally, the show program can include Tango dancers.

New musical compositions and show program:
The group needs from 1 to 3 days to prepare one new composition. including arrangement.
The group needs from 1 to 2 months to prepare and arrange a new show program.
On average, the group needs from 1 to 2 weeks to make up a show program with compositions already prepared.

The group's repertoire includes works from Russian folklore to world jazz classics. In an unusual blend of traditional Russian folk instruments and saxophone it is possible to hear classical, jazz, Latin, retro, country, popular Italian, Jewish, military and Russian folk music in popular-jazz arrangement.

The musical ensemble was formed in 2002 by students of the Saint-Petersburg musical college. A group of young musicians decided to blend the sound of Russian folk instruments with that of the saxophone.

From 2002-2006 with the support of the ELBA GROUP company, "MELODY" recording studio and the "EURO-shows" company the ensemble released four albums. They also premiered a grand Gala Concert program "BQ-Show" held in three parts:

1st part "Popular world classics"( G.Rossini, A.Borodin, W.A.Mozart, G.Sviridov, J.Strauss, M.P.Mussorgsky, S.V.Rahmaninov, G.Verdi and others).

2nd part "Modern music and popular - jazz singers" (jazz (J.Gershwin), pop (Sting), tango (A.Piazzolla), latin (C.Jobim), country, avant-garde and others).

3rd part "Russian Folk Show" (composed of vocals, instrumentals, dance, theatrical-staged numbers in modern arrangement).

The group has developed a close professional relationship with soloists of the academy of young singers and with ballet masters of the St.- Petersburg Mariinsky Theatre, popular jazz performers and chanson, with laureates of ball dances, various performers of ethnic music and other representatives of culture and art. Also, the wonderful artistic duet-ensemble "BQ", St.- Petersburg and the mixed choir of the Norwegian city of Nordfjordeid has been established.

The ensemble has given 1500 concert and corporate performances in St. Petersburg and abroad. They also participated in the opening of the folklore festival in Norway in 2006.