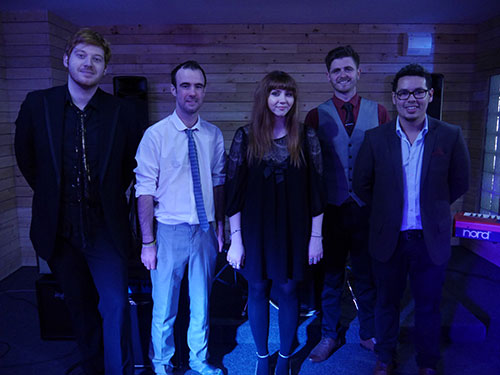 Male 1 - (Bandleader) Lead Male Vocals/Bassist
D.O.B: 23/08/1986
He is a multi instrumentalist who first began playing Drums at a young age. Later, he began singing and playing guitar/bass. He studied Music and graduated from University, achieving a BA.(Hons) Degree in Music. His live performance experience spans 11 years, over which he has performed in many bands and ensembles to vast amounts of people all over the world. He is also a singer songwriter and writes, records and performs his own music.

Female - Lead Vocalist
She is a young Actress/Vocalist/Musician with an interest in all areas of the performance industry. Emily graduated from The University Of Central Lancashire with a BA Honors Degree in Music Theatre in July 2012. During her time at University, she studied various types of theatre developing her acting and vocal skills, alongside playing several choral and principal roles in her courses musical productions.
Since graduating University, Emily continued her performance studies by attending TV acting classes and playing guitar/singing with an originals Rock band from June 2013 -Aug 2014.


Male 2 - Guitar/Vocals
He is a unique and talented guitarist who can claim to be a master of a large number of styles using different techniques, approaches and textures. Turning professional at the age of 17, and having worked as musical director on a range of productions in theatre, toured throughout UK and Europe with blues bands, worked as a session musician and song writer for a range of artists.

Male 3 - Keyboards
D.O.B: 10/11/88
He first took interest in learning to play a musical instrument at age 7. He first started to learn on the organ that was left in the house and decided to take lessons. Andy quickly realised that he wanted to take music seriously and took his talents and ability from organ, to keyboards and finally the piano. Andy is classically trained and has achieved grade 8 piano along with grade 5 distinction in jazz piano before studying A-level Music and a B-Tech Diploma in Sport & Exercise Sciences at college. Andy decided to further his education and make Music his main focus where he studied BA Music at Salford University.

Male 4 - Drums
He has been playing drums since the age of 12, and has various qualifications including a distinction in his BTEC in Popular Music (Lincoln college), and a Honours in his Music Performance Degree (Leeds Metropolitan University). Although playing in various cover and original bands for most of this time, he had been playing professionally since 2012, working for Princess Cruises, Celebrity Cruises, Viking ferries, and DFDS Ferries. Steve has also performed on multiple UK and European tours with his originals band, where he has also gained much of his studio experience. Playing major festivals and taking part in music video's is also a perk of this band


Experience
- Celebrity Cruises - Solstice - (Australia & New Zealand)
October 2014 - April 2015
- Celebrity Cruises - Silhouette (U.S.A, The Caribbean & Mediterranean)
September 2013 - March 2014
- DFDS Cruises - (Amsterdam)
August 2013
- Viking Cruises - (Sweden & Finland)
July 2013
- Intercontinental Hotel - West Bay, Doha, Qatar - Paloma Bar/Restaurant
August 2012 - February 2013
- Many Weddings & Functions - U.K
2009 - Present.