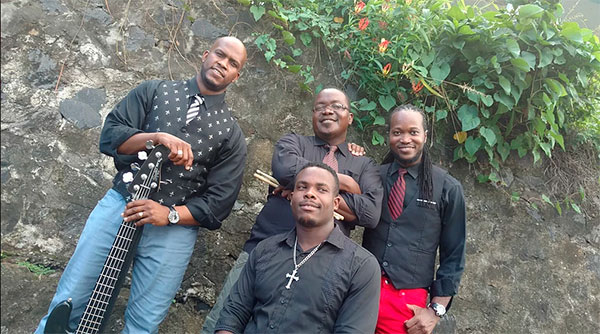 Lloyd (Keyboardist / Vocalist)

Lloyd embarked on his musical journey at a tender age. He started like so many musicians in the church, playing the drums and singing as part of the choir as well as performing duets with his aunt.

His love for music has grown immensely since being introduced as a child, but has gravitated towards playing the keyboards which he found a more relaxing and enthralling experience. Lloyd has sought to perfect his skills at playing the keyboard, through seemingly endless hours of rehearsing, locking himself away, carried away by his music in his perpetual quest to achieve the indubitably elusive level of self actualization.

Amazingly, this Dynamic young man has absolutely no professional musical training. Through his brilliance, he has taught himself all the intricate details that so many find difficult to grasp and has attained mastery of his musical talent. His professional training and certified credentials are held in the fields of customer service and airline management, but his heart's desire has always been music.





Havilla (Bassist / Guitarist / Vocalist)

Havilla was lucky enough to receive a musical gift from his father in the form of a lovely acoustic guitar. This marked the beginning of his musical odyssey and he practiced playing this instrument until he was able to start playing bass in his hometown church. His love for music saw him venturing outside the constraints of the church and in 2000 he started his musical journey on some of the world's most renown and world class cruise lines.
As fate would have it, the band was without a bass player and efforts to name one from the home population proved futile. Havilla took it upon himself to borrow a book, bass and with the help also of YouTube he proceeded to teach himself the art of playing the bass guitar which he has now mastered.

This gifted young musician with the aid of technology and no one to guide him, became so good a player that he joined lots of local bands as the lead guitarist and also bassist too when needed.

In 2011 he ventured off on his known and started his own PROJECT IV, which proved very successful performing to audiences at the locally in St. Lucia in the hotels and other neighboring islands and on also 5-star cruise lines.





Renee (Lead Vocalist)

Like most musicians this talented young man started her musical journey in the church, he has done many performances locally and internationally at weddings, parties and other events.

From an early age he knew music is what he aspired. During his high school years, he found himself entering competitions with the school's choir and individually. Renee thinks music is in his DNA as his family is very gifted musically; he knew from the on set that singing would be his career objective.

Singing as a profession for Renee started when he migrated to the Island capital of Saint Lucia which is Castries. He auditioned at the Sandals Grande Hotel there he was successful and has worked with the resident band and also further ventured off to working with many other local bands in the hotels.

His passion and enthusiasm for music encourages him to elevate himself, he continued his musical career aboard 5-star cruise lines using his talent and experience has a master of what he does vocally to make persons listening experience breath taking and memorable.






Alleyn (Drummer / Vocalist)

Alleyn's musical abilities has come from humble beginnings, back In the day when he played as a drummer in catholic church in his community In St. Lucia.

Alleyn exuberance for this instrument excites him even when he's not sitting around the instrument, He quickly moved on the hotel seen where he spent years mastering the art form. Shortly thereafter in the 2000s he started working on cruise ships.
Alleyn has grace the stage with the likes of The Mighty Arrow (Hot hot hot) and The Mighty Sparrow (the king of calypso) also opening jazz acts, at the St. Lucia jazz festival.

To this day Alleyn remains a talented and master musician on and off the stage.