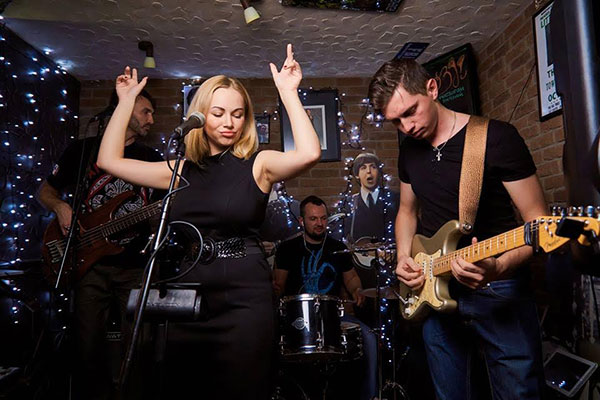 Music style of the band is a crossover of pop-rock and synth-pop dance music with a beautiful combination of enchanting female voices and pleasant velvet male vocals.

Tetiana:
(vocal)
Ukraine
DOB 1990.
Height 170 cm, weight 59 kg.
Since childhood she has dreamt to be engaged in musical activity professionally. She studied at the Ukrainian Theatrical School and participated in numerous musical shows.

Valeria
(vocal)
Belarus
DOB 20.11.1988.
Height 170 cm, weight 53 kg.
Her childhood dream to become a superstar resulted her in undeniable artistic professionalism. She studied at the Belarusian College of Music and Choreography and at the Music Academy, and participated in several Belarusian bands.

Valery:
(vocal, bass guitar, synths,arrangements)
Belarus
DOB October 1981 in Belarus.
Height 198 cm, weight 89 kg.
As a child he dreamt to be a bass guitarist in a famous rock group. He managed to develop his own playing style where he combines his love of rock music and synth-pop. He studied at the College of Music and Choreography as a contrabass player, and at the Music Academy as a vocalist. Since 2003 he has been working in the Belarusian Bolshoi Theatre of Opera and Ballet. Since 2008 he has worked in the legendary Belarusian-Russian ensemble of Syabry.

Alexander:
(drums)
Belarus
DOB 18.7.1983.
Height 177 cm, weight 90 kg.
The talent and hard work have made him a true master at playing the drums. He studied at the School of Drumming with some of the best drum teachers in Belarus. He played in several music bands in the country, including a popular rock band Lite Sound. Since 2005 he has been a drummer in such bands as Dali, Drozdy, and LiteSound.

Maksim:
(guitar)
Belarus
DOB 8.5.1989.
His passion towards the guitar motivated him to study at a music school. After graduating from the school, at the age of 18, Maksim got a job in the more Belarusian bands.
The winner of the competition "Many-sided Guitar" in Moscow (2011).