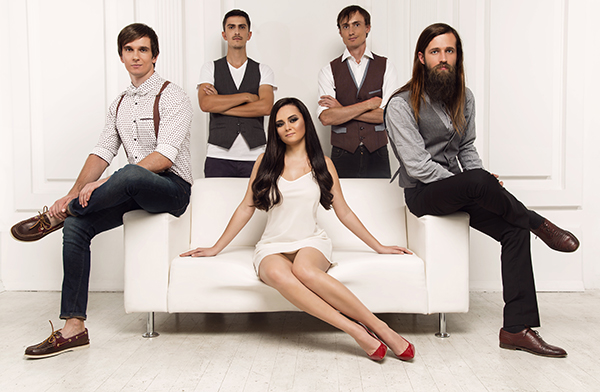 Tamara:
was born 1990 in Ukraine in Krivoy Rog city.
2006-2010 she studied in collage of music in Krivoy Rog city on Pop jazz vocal faculty. After studding in collage She had entered in National Academy of Culture and Arts in Lugansk. Her speciallity was jazz vocal.
She graduated from the academy in 2015 and got the higher musical aducation as a concert singer and vocal teacher.
She has been working as a vocal teacher and also singing with symphony orchestra, many jazz bands, etc. She has been concentrating on her cover band since 2014, developing different vocal technics making her band more and more professional.


Yevhen:
was born 1986 in Ukraine in Krivoy Rog city.
His music ambitions started at elementary school at age of 6 when he studied classical piano. Yevhen took up drumming at the age of 12.
In 2004 entered music collage in Krivoy Rog where he learned such styles as jazz, fusion, blues and others.
In 2005 briefly started to play a variety local bands.
He entered National University of Culture and Arts in Kiev in 2009 where he received higher education. Also had worked in Sweden as a session drummer in 2012.


Oleksii:
was born in 1986 in Krivoy Rog,Ukraine.
He began playing bass at age of 8.
In 2004 entered in Kiev Music Institute(formerly Glier College of Music) where he received a higher education.
Since 2005 he is constantly touring with many famous Ukrainian pop singers and working as a sesseion bass player.
Also he worked in collaboration from 2008-2013.


Oleh:
was born in 1989 in Dnipropetrovsk, Ukraine.
Best known as a talented composer and arranger.
At seven he began studying piano at local music school.
In 2011 entered in National Academy of Culture and Arts in Lugansk. After graduating from the Academy he started as a studio keyboardist and arranger.



Andrii:
He started playing guitar at the age 14.after couple years of taking guitar and music theory lessons he entered Kiev Music Institute(formerly Glier Music College).after graduating from the Institute with the bachelor degree in 2010 He worked with many local bands in Kiev playing music ranging from jazz to rock.also he has a serious experience as a session guitarist working for many projects as "Kaska Records" session man from 2009 to these days.