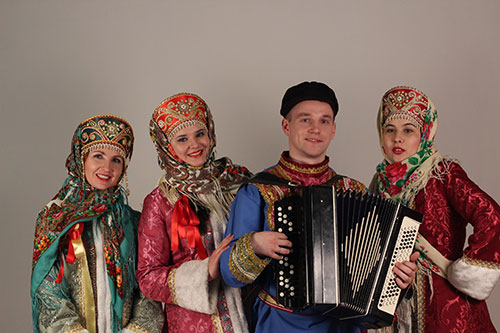 Ensemble-a young and talented team consisting of professional musicians graduates of the best universities in Russia.

The repertoire is more than three hundred songs from different regions and genres. it
lyric, wedding, calendar, podblyudnye, dances, games, sentences, spiritual poems, and many others.

In addition to the songs in the repertoire of folk dance ensemble (frame, polka, box, Siskin et al.); People used tools
(Saratov harmonica, accordion-hromka, balalaika, accordion, domra, kugikly,
ceremonial percussion instruments).

Participate in the program from 3 to 6 people

Experience:
more than 6 years.
-2012-tour to Hungary / Budapest at the invitation of the Russian Cultural
center ("Russian folk" program)
-2013-concert in honor of the opening of an Orthodox church in Paphos (about.
Cyprus) (The "Christmas")
-2013-tour in Hungary (Budapest, Eger-Shalgotaryan-Ger) with the program "Carnival"