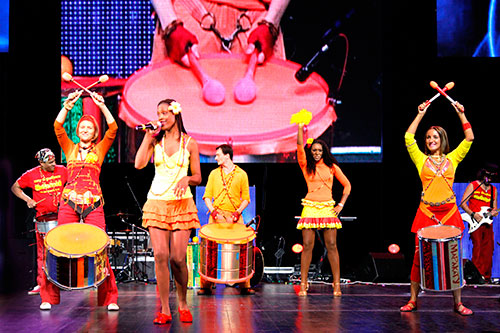 The group took part in numerous festivals and events in different countries (incl. Qatar). Totally there were more than 1000 (!) events with our participation in more than 50 cities, back to 10 years of our activity.

Show duration is 2 or 3 times per day, 30-35 minutes each.
The show programm consists of
- carnival street parade (up to 1 hour)
- neon drum show on stage (10 min)
- massive drum and dance interactive, wich could involve huge masses of audience, up to 2500 persons at the festival spot simultaneously (up to 40 min)
- live stage performance including live vocals, guitars, violin, drums and dancers (up to 30 min)

Standard festival group: 11 persons - 2 dancers, vocal, guitar, bass, drummers
Street programm group 8-10 persons: 2-3 dancers, electroviolin, drummers

Extended group:
Drummers: up to 10 performers
Vocals of different styles, such as world music (of different ethno traditions) and covers (famous european heats), 1-3 performers.
Guitar/bass/violin 2 performers
Dancers: up to 6 performers, mostly feminine.