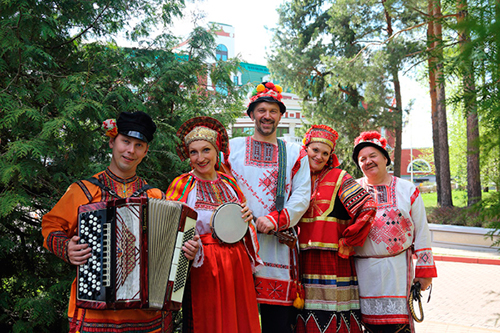 Ensemble is one of the best Russian folk groups, formed and began operations in 1996. Artistic director of the ensemble-united in the collective group of creative, experienced and educated artists for whom folk music is not just a profession but a way of life.
Each soloist ensemble features a deep knowledge of the traditions of folk singing, high vocal level, bright artistry, live improvisation.
Musicians in his work is used in virtually all existing folk musical instruments: balalaika, harp, accordion, accordion, flute, folk fiddle zhaleyka, oat, ocarinas, kobza, wheel lyre spoon.
Folklore ensemble has several collections of original scenic and urban folk costumes.
At the heart of a vast repertoire (about five hundred works)-the best examples of the Cossack, Ukrainian, Belarusian folklore; songs, instrumental tunes, skomoroshin Russian North and Siberia.
Team for many years was a regular participant in the TV program "In our harbor came the ships". The songs sound as sound tracks documentaries and feature films. Artists collective actively removed in movies and popular TV series.
Ensemble for several years worked with Mayakovsky Theater, participated in performances of "Karamazov", "Dead Souls" and had his own production-ethno-musical "Cossack tales or Crossing Europ".