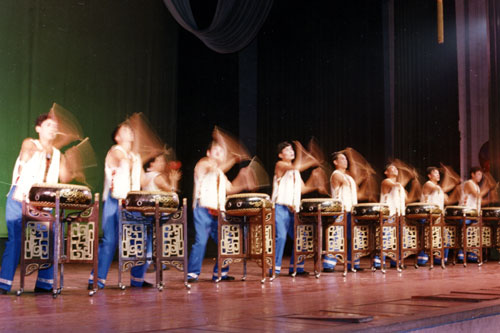 China is a soulful place in the east. In this mysterious land, live people who worship God. They believe the God is in charge of all of nature. Therefore, they must often dialogue with God, tell him their own life and emotions, then God will bless people rich and happy. This is the Chinese philosophy of life: the unity of universe and human beings. Drum is the best language, it not only can rock the earth, but also can say smooth-spoken. Between heat and static, they narrate their vigorous life to God. Although they sometimes play noisily and sometimes attack each other, they continue to be on harmonious terms.
The entire program is performed by Chinese dram music, with tremendous vigour and exciting melody. It also been added more scenes about humans' life, animals' chase play and fairies's dabble around in water. The performance was so vivid that seems people seem to live in harmony with nature face to your face. It also extremely rich modern flavor and philosophic theory.
The actors played drum since childhood and grew up with it. To beat drum has become one part of their life, and developed a unique artistic style after years of performances. They adore God, like animals, love life, and take part in many activities of worship, hope to give world greeting from their drum. They have toured around many countries. They were praised by various countries' media as "the first-class miraculous art group of world".