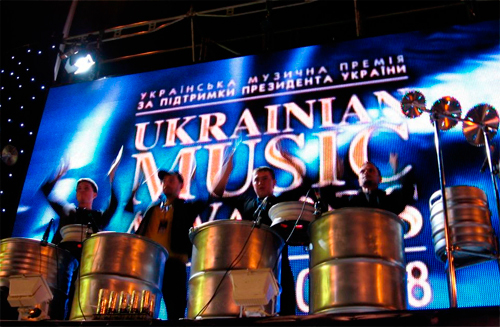 4 Performers.

Drummers Collective was founded in 2004. For this, not a short period of time, the ensemble won fame both in Ukraine and abroad.The main activities of the group - is to create a vibrant music and impressive show, not just using the drums, musical instruments, as well as conventional iron drums, machine drives, chains and more.
They are modern, fiery, energetic, up to date. The activities of the team is very diverse. Starting with a simple irondrums, the ensemble has developed to create the show on the drums, ethnic percussion, Ukrainian folk tulumbasah, as well as a new movement of drum circle, which not only surprises the viewer the spectacle, but it makes getting involved yourself.

The team took part in activities such as: "Jazz Carnival in Odessa" (2006), the opening of MTV Ukraine (2007), "Ukrainian Music Award" (2008), Tuborg GreenFest (2008), program "Minute of Fame" (2009), The first Odessa International Film Festival (2010), ParkKievan Rus (2010 - 2011), the final competition Ukrainian Eurovision (2011) (together with Brjats-band) and many others.