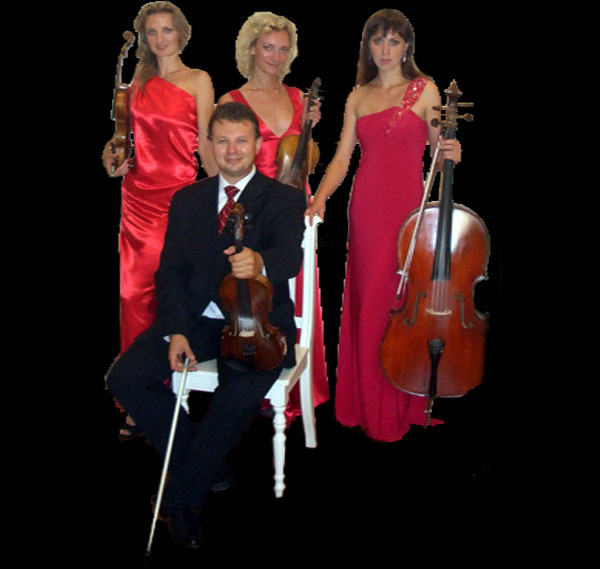 Yulian

Education:
2001,2003, Private lessons with famous Germany teachers and performers. (viola)
1994-99 Odessa conservatory (viola)
1991-94 Odessa special music school of P.STOLYARSKY. (violin)
1990 Kherson music college. (violin)
1986-90 Askania-Nova music school. (violin)
1981-86 Kiev special music school of N.LYSENKO. (violin)

Orchestra experience:
September 2009 - march 2010 K&K Philharmoniker (Austria)
december 2007 - february 2009 -.Solo Viola of Montenegro symphony orchestra
2007-String quartet onboard "Celebrity Cruises"
2006- chamber and recital concert's in main Ukrainian cities. (viola)
2005- President Orchestra of Ukraine. (viola)
2004- Kiev state music theatre for youth. (viola)
2004 -participate in string quartet onboard vessel of "Oceania Cruises".
2000-2004 - National Symphony orchestra of Ukraine. (viola)
2003 -International Summer festival. Hamburg, Germany.
1999-Odessa philharmonic orchestra. (viola)
1994-99 Odessa chamber orchestra. (viola)
1995- 98 Odessa opera and ballet theatre. (viola)
1991-93 Odessa folk ensemble. (violin)

Prizes-
1996-diploma on Ukrainian competition and festival of chamber ensembles.
Odessa, Ukraine. (viola)
1988- 2 prize on regional violin competition .Kherson, Ukraine. (violin)
Recording- 1998 -first performing and recording on CD Concerto for Viola,Voice,
and other, with chamber orchestra. Composer-G.Uspensky. Odessa,Ukraine.

Inna

Was born 17/12/1977

Formation:

1999-2004 - the expert, the Kharkov state academy of culture, a specialty "The actor of an orchestra, the teacher special disciplines";
1992 - 1996 - musical school it. N. Lysenko, a specialty "The actor of an orchestra, the teacher on a class of a violin";
1985 - 1992 - children's music school on a class of a violin, the Poltava area.

Operational experience:

March-May, 2011th - worked under the contract as a part of a string electronic quartet "Appassionata", Venetian hotel, Macao, Hong Kong;
2009 - 2010 - the musician of an orchestra of the Poltava symphonic orchestra;
August, 2009th - worked in South Korea, "Vivaldi park", solo;
2005 - 2006 - the musician of string ensemble, the liner "Pan Star Ferry", Pusan, S. Korea;
2003 - the musician of an orchestra of theater a musical comedy, Kharkov;
2001 - 2002 - the musician of the Youth symphonic orchestra "Slobojanskiy", Kharkov;
1999 - 2001 - the musician of an orchestra of Poltava musically drama theater it. N.V.Gogol; solo with a symphonic orchestra, Zubickiy "The Rhapsody".

Victoriia

Date of Birth: 9.12.1982
Marital status: Single
Nationality: Ukrainian

Language: Conversational English, also Russian and Ukrainian
Instruments mastered Violin/viola

Education
1989-1997 Secondary School 30, Kremenchug
1997-1999 Secondary School 165, Kiev
1997-2001 Music College by Glier, Kiev
2001-2004 Kiev National University Culture and Art

Previous Experience
2002-2010 Music school (violin teacher)
2004-2011 Violin player in duo "Accolade", Kiev
2006 Princess Cruises on board "Coral", String quartet (viola)
2007-2009 Hotel Opera, String quartet (viola), Kiev
2010 Circus theatre "Bingo" (violin), Turkey

Eugenya
Was born in Kyev in 1981.

2006 - finished National Music Academy of Ukraine them. Tchaikovsky, Chernova Y.A. course

Since 2005 is working in string Quartet of National Philharmonic of Ukraine "Caprice-Classic"

2006 - was working in consisting of string Quartet on a cruise ship "Nautica" the "Oceania" company.

Recorded in the studio for popular Ukrainian bands.

STRING QUARTET REPERTOIRE

CLASSIKA

W.A.Mozart: "Eine Kleine Nahtmusic", Divertimento N. 1, 2, 3., "Rondo alla Turca", "Pantomime"
L.van Beethoven: "Minuet in G", "Ich liebe dich"
J.Brahms: Dances ? 1,5,6, "Waltz"
Boccherini: "Menuetto"
A.Dvorak: "Humoreske"
G.Bizet: Carmen
A.Vivaldi: 4 seasons
G.Verdi: numbers of..
J.Offenbach: "Barcarola"
E.Grieg: "Waltz"
J.S.Bach:"Aria"
A.Borodin: "prince of Igor"
F.Mendelssohn: weddding marsch
F.Schubert: "An die Musik", "Misical Moment"
F.Kreisler: "Shon rozmarine"
J.Strauss: "Voices of Spring", "Blue Danube"
E.Elgar: "Salut d'Amoure"
F.J.Gossec: "Gavotte"
I.Albeniz: Tango
J.Haydn: Serenade
J.Pachelbel: Canon
C.Saint-Saens: "Swan"

"Beatles": "Yesterday", "Yellow Submarine", "When I'm 64", "Eleanor Rigby", "Back in the U.S.S.R.", "A Hard Day's Night","Day Tripper", "Lady Madonna", "Get Back", "Hey,Jude"

Jazz

D.Ellington: "Caravan", "It..a ..Swing", "Moonlight Serenade", "Don't get..anymore", "Solitude", "In a Sentimental Mood", "Creole Love call"
J.Kander: "New-York,New-York", "Cabaret"
H.Arlen: "Paper Moon"
J.Garland: "In the Mood"
G.Shearing: "Lullaby of Birdland"
J.Kern: "Smoke get's in your eyes"
B.Strayhorn: "Satin Doll", "Take the "A" train", "Chelsea Bridge"
V.Youmans: "Tea for two", "Carioca"
H.Warren: "Chattanooga"
B.Howard: "Fly me to the moon"
P.Desmond: "Take Five"
J.Green: "Body & Soul"
Ch.Parker: "Indiana-Donna Lee"
Garner: "Misty"
F.Fisher: "Chicago"

France..

"Salut", "Les Chapms Elysees", "C'est si bon", "La Vie en Rose"

tunes from movies,etc..:

"Love me tender" - E.Presley
"Feellings"- Albert
"Jamajka"- ?.???????
"Speak softly love"
"Maria"(from'W-S Story') - L.Bernstein
A.L.Webber: "All i ask of you", "Tonight", "Memory". "Don't cry for me, Argentina", "Jerry Bock", " To Life"
"A Little shoues" - C.Chaplin
"Smile" - C.Chaplin
"Rain Drops"
"Falling leavs"
"The Washington Post" - J.P.Sousa
"Strangers in the Night" -Sinatra
"My Way" - F.Sinatra
"Be My Love" - Brodsky
"My Funny Valentine" - Rodgers
"Goodbye to Love" - Carpenter
"Makin' Whoopee"
"Let's do It" - Cole Porter
"Anything goes" - Cole Porter
"Hello,Dolly!"
"My Fair Lady "
"Loony Tunes"

Mancini: "The Pink Panther", "Peter Gunn", "Two for the Road", "Remington steele", "Newhart"
Gershwin: "I got Rhythm", "Fascinating Rhythm", "The Man I Love ", "Clara's Lullaby", "An American in Paris", "Embraceable You"

Italian song's: "Santa Lucia", "Come back in Sorrento", "O,sole mio", "Oh,Marie!", "Wedding Tarantella"

Mexicana: "Estrellita", "Mexican Hat Dance"

Spanish: "La paloma", "The girl from Ipanema"
"La Fiesta" - C.Korea
"La bella cubana" - J.White

Irish: Kirkwall session

Cowboy Songs....

"Merry Christmas"
"House of the rising sun"
"Wedding Marsch" - Variations
"Happy Birthday" - Variations

Joplin ragtime's

"The Entertainer"
"The Easy Winners"
"Country Club"
"Elite Syncopations"

Pop and Rock:

"Purple Haze"- J.Hendrix
"The orange blossom"
"Sir Duke" - S.Wonder

L.Anderson: "Blue Tango", "Forgotten Dreams", "Arietta", "Jazz Legato", "Jazz Pizzicato", "Horse and Buggy", "The Waltzing Cat"

Blues

"Bluesette"- N.Gimbel
"The birth of the blues"- R.Henderson

M Shmitz: "Miller Rag", "Passacaglia in Jazz", "Birthday Serenade", "Boogie for Strings"

"Kurze Streiche","BassBiss" - J.Reiser
"5 Sympfony of Beethoven" - W.Thomas-Mifune

Tango's: "Scent of the Woman", "La paloma", Todo Corazon, Flores Negras, Rio-Rita, A flouwer's from Nice, El Choclo, La Comparsita, Sparkling Champane, "Jalousie" - Gade

Folk song's: "Hora", "Black Eyes", "2 oaks", "Bukovinskij Kozachok", "Hava Nagila", "Skylark", "Leva's Polka"

Latina's song's

"Tiko-Tiko" - samba
Manha de Carnaval
"Desafinado" - A.C.Jobim
La Bamba
Noites Cariocas
"Besame Mucho"