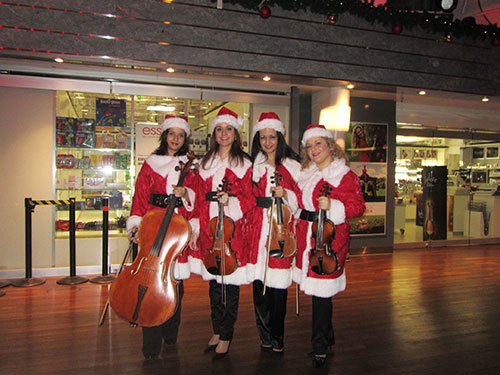 Krassy is unique, elegant, manyfaces multi-instrumentalist and singer.
She is a very talanted entertainer with a real charm on the stage, playing different instruments: violin, mandolin, xylophone, piano, keyboard.

Krassy started to play the violin at the age of 5.Later, in the music school, she decided to express her music talent suppliment some more instruments - drums, mallets, percussion instruments; piano; mandolin and singing.
She graduated from Music Academy Sofia, main subject violin, qualification: Instrumental & Orchestral music player.
Later she studied her second education - and she became professional pop and jazz singer and pop and jazz piano player at Plovdiv Univercity- Bulgaria.
She has experience working in Switzerland, Dubai, UAE; Germany; Norway; Holland, Sweden, Finland, France etc.
The talented lady speaks English, French, German, Russian, Bulgarian.

Krassy created a number of female string quartet D: string duos, trios, quartets etc. She is the lieder of all the amazing classical bands. She plays solo violin, mandolin, xylophone, she sings.
String ensembles consist of professional young, talented and charming ladies from Bulgaria. They have a big experience working on cruise ships, hotels etc.
The beautiful girls have a big international repertoire, suitable for guests from all nationalities,
Including Light classics / Strauss, Mozart, Vivaldi.../, jazz, international popular songs / italian, spanish, russian, hungarian, greek, french.../ american country, latino, dance hits and more...;
The string ensembles have as well as a big number of dresses and costumes.
Recently has been finished a new project - singing and dancing SHOW STRING QUARTET "D" - this become a real lovely show, appreciated all over the world.

To the quartets and trios "D" could be included pop singers or opera singers, pianist, ballet etc.