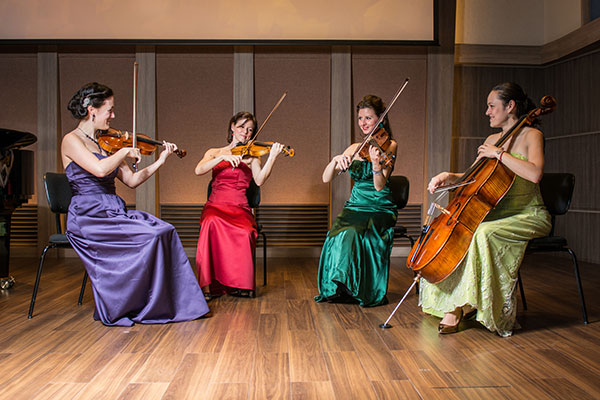 String quartet music from classical highlights till contemporary pop music for concert programs and lounge music performances.

Members:

Anna:
1st violin
Anna strated to learn music in my birth-town Tiszafured, Hungary at the age of 7. Through all of my education she felt special interest to play chamber music.
Graduated from Szechenyi University Gyor as violin teacher and chamber music artist, and recieved artist diploma from Debrecen University at 2009.
Right after that She was member of North Hungarian Symphonic Orchestra Miskolc for 2 seasons, aslo was stage musician in a modern theater-piece at Csokonai Theater Debrecen.
Since 2011 She are works as a freelancer musician, took part in orchestra tours around Europe, just to mention the most memorable ones, russian ballet theater perormances in France and Great Britain, french tour with the Classical Concert Chamber Orchestra and "Mozart+" tour.
Perform at sea on cruise ships playing with string quartets and piano quintet since 2011.


Mirjam
2nd violin
In 2007, She received diploma as a violin teacher and chamber music artist in Debrecen. Then She participated in several different musical projects around the world.
Besides She has been playing in symphonic orchestras for long, She has numerous opportunities to play as a soloist. However, from She's point of view, participating in a chamber group is the most enjoyable way to perform.
In the past few years, She played in several different chamber groups.


Katalin
viola
She began playing violin at the age of six.
Then in the secondary school of music She switched and started to play viola.
After these years She went to the Franz Liszt Academy in Budapest where I got a degree (viola artist and teacher)
She participated in viola and chamber music competitions and courses both in Hungary and in Europe.
She played in many orchestras and travelled a lot in Europe, Asia, Mexico and USA and I work in symphonic orchestra now also.


Agnes
cello
She started to play the cello when She was 8 years old. Since She's early years She love to play in different music groups. She graduated as chamber music artist and cello teacher from University of Szeged in 2007. Not so long after She started to travel and played for 7 years around the world with other musicians, where She got influenced in playing light music, and make covers of famous evergreen songs.
She has performed in Qatar, Bahrein, Oman, Dubai, Japan, Indonesia and several countries in Europe in formations of duos, trios and quartets. She has erformed on cruise ships and participated various concerts in Budapest. Beside playing the cello.