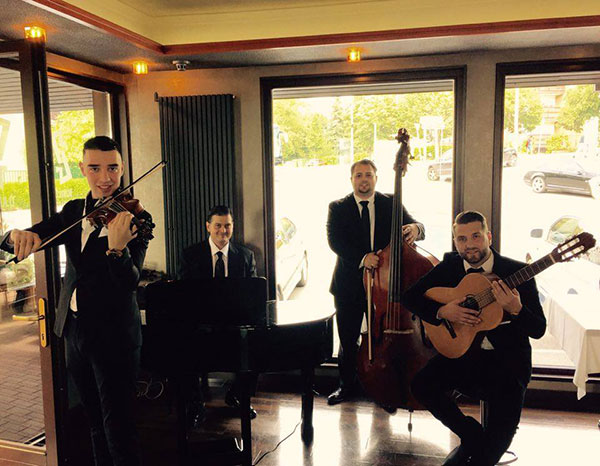 Male:
Age: 23
Violin
He was only an 8 year-old boy when he got his first musical instrument, a violin.
Since that day, he became a music and violin-addict, and started to exercise
with his parents every night from 7 to 8.
He has studied at Liszt Ferenc Academy of Music.
Both of his parents are from a musician family which helped him in advancement.
The biggest success of his life was a one-day course with Ennio Moricone, who
recognized his talent, and gave a signature onto his violin.
Throughout his life,he has paid extra attention for the entertaining and world
music.
In his younger age he was the primate of the 100-member Hungarian Gypsy
Orchestra.
He can speak in 3 different languages; English, German and Italian.


Male:
Age:23
Guitar
He can play on the guitar since he turned 9.
His parents have always paid extra attention for his music education, in
the pattern they have grown in.
He has started studying at Bartok Bela Music High School when he was 14.
Later at Liszt Ferenc Academy of Music.
He was like lucky enough to play with tons of famous Hungarian musician, and
with the worldwide known Snetberger Ferenc and Tzumo Arpad.
He worked in different studios as a Session Musician.
He was able to mesterfize as much different musician type as he could.
He worked with trios, duos, and bigger orchestras.
He had a one-day course with George Benson.
Spoken language: English.


MAle:
Age:26
Doube bass & bass
His biggest inspiration was his grandfather. He was the musician of the family but his son didn't follow his pattern so did Richard.
He has attended at double bass lessons at his school
3 times a week, and was a loyal member of the school's orchestra.
He has learnt at Egressy Beni High School and at the
University of Debrecen Faculty of Music.
Currently he is a member of Kodaly Phirharmonics.
He had the opportunity to work with Olah Kalman.
He was a musician teacher volunteer in dozen of
camps to raise up upcoming talents.
He is a 3 time Hungarian bass and double bass
competition winner.
Spoken languages: English and German.


Male:
Age:38
Piano
He was at the age of 10 when he
started playing on the piano. He was keep on studying it at has attended at different competitions.
He was the 3rd best bar-piano player in Hungary, in 2012.
He has worked with Costa for over 10 years. He is currently a pianist at different bars and pubs.
He is specialized in entertaining music and such an experienced musician.
He is open minded for jazz-classic-pop music as well.