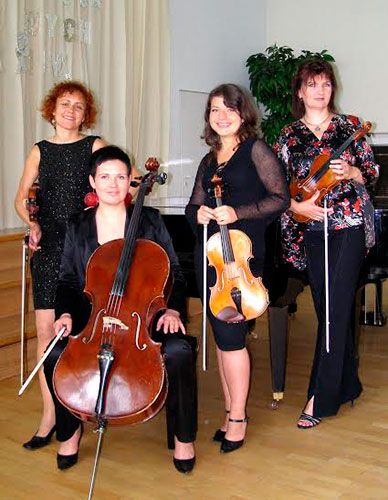 QUARTET 4Strings

The quartet was established in 2009.
Over the years we played a lot concerts as well as classical like delivered light music during varied occasions.
Our repertoire incorporate classical music like quartets by Beethoven,Haydn,Dvorak, jazz standards like Lullaby of Birdland,Caravan,Satin Doll, pop standards-music by the Beatles,BeeGees...or musical excerpts from The Phantom in Opera, Porgy and Bess, Hello Dolly.
All members of the quartet are graduates of Music Academy in Gdansk and at
some point played in the Baltic Opera orchestra.

TRIO CON AMORE show

We first time performed as a trio during the concert in Kalliningrad/Russia in September of 2013.
Since then we played together in Gdansk/Poland, Kosice/Slovakia, again in Kalliningrad/Russia.
We also run our individual professional life.

DUO CON BRIO

Duo Con Brio was established early in 2013.