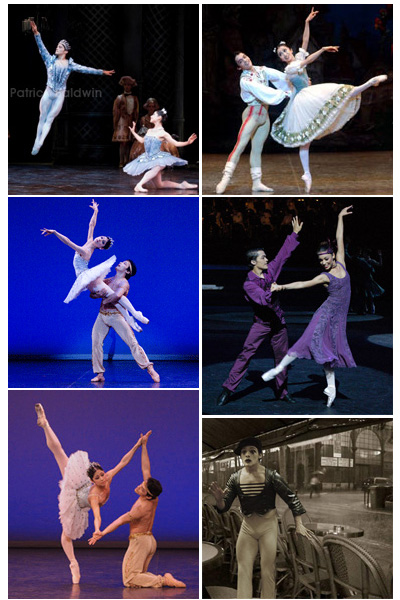 Stats
Height: 1.67 cm
Weight: 65
Date of birth: 1979
Dance Styles
Ballet
Training
Yat-Sen studied at the Cuba National Ballet School, beginning his studies at the age of nine. In 1989 he graduated as a dancer and teacher.
Awards
Best Partner at Varna (1990), "Leonida Massine Award" in Positano for Best Classical Dancer (1999) and a finalist in the Contemporary Dance Competition in Paris in 1993.
Additional Skills
Singing
Choreography - Yat-Sen has choreographed Para Dos, Maybe It Was Love, Dolphins, ENB Reloaded, Parallel Life, In The Beginning in the new project Synergy 2006, La Batalla (solo) and Doollally Ballet.
Experience
Company member of the National Ballet of Cuba under the Direction of Alicia Alonso.
1992 company member of Jeune Ballet de France, with whom he toured worldwide. His repertoire included Flower Festival in Genzano, Le Corsaire, Don Quixote, Diana & Acteon, Tchaikovsky Pas de Deux, Paquita, Coppelia, Flames of Paris, A. Mendez's Munecos and I. Zatti's Shogun.
1993 Yatsen was invited to join the English National Ballet as a Principal Dancer. With them, he has danced many roles, including The Sleeping Beauty Prince, Blue Bird and Carabosse, The Nutcracker Prince, Russian Gopak, Spanish Dance, the Nutcracker Doll and Drosselmeyer, Paquita, Dances from Napoli, Franz in Coppelia and Mercutio & Romeo in Nureyev's production of Romeo and Juliet. He created a role in Mauro Bigonzetti's X.N Tricities, The White Rabbit in D. Deane's Alice in Wonderland, the Jumping Bean in M. Corder's Melody on the Move, The Twins in Canterville Ghost's W. Tuckett, Clowns in Strictly Gershwin's D. Dean and the Orphan in M. Corder's Snow Queen.
Yatsen has performed in many galas, including, Homage to Nureyev at the Coliseum Theatre, 50th Birthday Wings in memory of Diana, Princess of Wales, the 50th Anniversary of English National Ballet and Dame Beryl Grey's Evening at Sadler's Wells Theatre.
Yatsen
speaks English. He holds a valid passport and is a Cuban national.