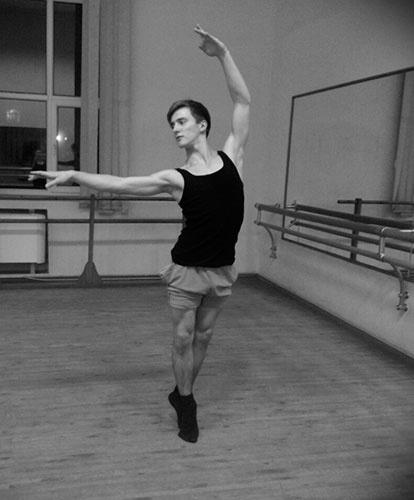 Year of birth: 1995

Education:
Gymnasium School, Mariupol Year of graduation: 2013
Bachelor's degree, Law, 3rd year of study National Pedagogical Dragomanov University, Kyiv
Taking part in an activities of choreography productions, festivals, artistic culture, management, socio-cultural activities

Achievements:
2012-2013, winner of the international competition "Yaltynskyi bereh", "Lyha professyonalov"
2014 became one of the 100 best dancers of Ukraine while participating in the project "So you think you can dance, 7"

Professional work experience:
2005-2013, ballet dancer of show-ballet dance studio "Matador", Ukraine, Mariupol
2013-2014, ballet dancer, ARTGroup "JAM" Dance Studio, Kyiv
2014-Present, ballet dancer of UAFEA "Kalina" ballet
2015, Chapkis Dance Studio
Dance teacher of break-dance, contemporary, classical dance

Traits of character:
Calmness, high level of responsibility and punctuality.
Excellent communication and interpersonal skills.
Remarkable flexibility, agility, coordination, grace, and a sense of rhythm.
A creative ability to express myself through movement.