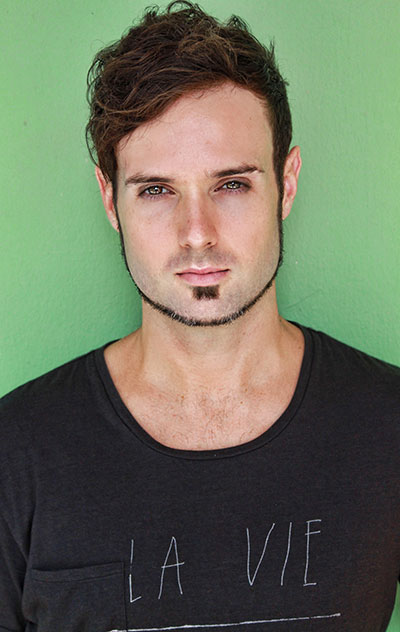 D.O.B: 28th March 1984
Height: 5'10
Weight: 75 kg

Training
2001 - 2003 - Attended the "Entertainment Factory", achieving a Diploma in Musical
Theatre with Drama elective, and obtaining an overall mark of Pass With Distinction.

2006 - Further training was also acquired at "Brent Street Studios" in Sydney,
Australia, where I obtained a Certificate IV in Performing Arts.

Work Experience
2009 - 2011 "Monster Rock" - (Universal Studios Singapore)
- Originated the role of "Wolfman"
- Henry Preston Jekyll (Host of Monster Rock, Swing)
- Charlie Chaplin (Face Character, Swing)
2005 - 2006, Brent Street Studios Showcases;
"Cabaret" - Chorus
"Rent" - Rodger
"The Rocky Horror Picture Show" - Frank'n'Furter
2004, "Gabba Gabba Hey! The Ramones Musical!" (Manifest Prod.)
Chorus
2001 - 2003, Entertainment Factory Showcases -
"A Chorus Line" - Alan Deluka
"Grease" - Sonny LaTieri
"Chicago" - Billy Flynn

Television
Footy Show Revue Gala 2013
Comedy Festival 2012, Melbourne Australia (Dancer)
Resorts World Sentosa, Singapore (Dancer)
Universal Studios Japan (Actor/Dancer)
"50 Years of Television Special" - Ballroom Dancer
Film Clip - Bobby Fox, "I Wanna Be Your Lover" (Dancer)
Film Clip - James Cannus, "Love2Love" (Dancer)
Film Clip - Guy Sebastian, "Taller, Stronger, Better" (Actor)
Film Clip - Nasia Christie, "Sugar Me" (Actor)
Film Clip - Stephanie McIntosh, "Mistake" (Dancer/Actor)
TVC - Lee Harding CD Launch (Dancer)
Mornings with Kerri-Anne Oscars Special, Character Role, "Gladiator"
Mornings with Kerri-Anne, Chubby Checker Special - Dancer
TVC - Bankwest (Main Role - Actor)
TVC - Lotteries West (Main Role - Actor)

Promotional

Fashion Aid 2013
KPMG "Alice in Wonderland"
Perfect China Sydney Gala
Dancing Waiters - Dannii Petrovski/Chic Entertainment
Cirque Du Soliel Sydney Grand Opening, "Varekai", Sponsored By Optus
(Bodypainting, Dancer/Actor)

Dance
"Boylesque" - Jason Coleman (Singer, Dancer)
"Dance Delight" MTV Singapore
"Dance Delight" MTV Japan
Selected Dancer, "Kapono Workshop" (SYTYCD America)
Selected Dancer, "United We Boogie" Singapore (Elm Pizarro)
Selected and Featured Dancer, "Nappytabs Experience" (Tabitha and Napolean
D'Umo, SYTYCD America)
Featured Dancer, "FannyPak Singapore" (Beau Fornier)

Choreography
"Mel's Dinettes" Atmosphere Show (Universal Studios Singapore)
"Dance Delight" MTV Japan (Osaka, Tokyo, Japan)
"Divalicious" CD Launch, E.H.M (Tokyo, Japan)
"This Is E.H.M" Tour, Gene Coates AKA E.H.M (Osaka, Japan)
"Its My Time" CD Launch, Lara Janine (Osaka, Japan)

Skills
Advanced Singing (Musical Theatre, Modern), Acting (Modern, Comedy and
Classical) and Dance (Urban, Contemporary, Commercial, Hip Hop, Jazz, Tap,
Ballroom) training, Intermediate Classical Ballet and Lyrical Training, and Teaching/
Choreographing experience in Commercial Dance, Urban and Hip Hop.