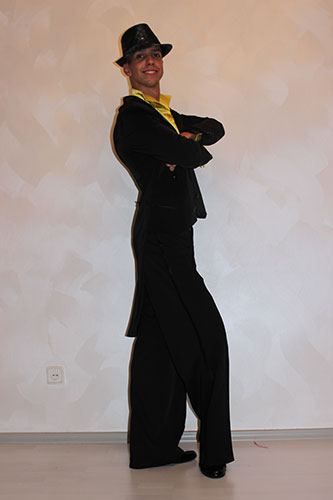 Date of birth: 1987
Height: 1.80 m
Weight: 65 kg

Profession: ball-room dancer, ball-room dance trainer

Dance styles: ballroom dance (Latin-American, Ballroom), hip-hop

Dancing experience:
1993-2001 - the ballroom dance club "Fiesta" Zaporozhye city,
2001-2003 - show ballet "Diamond": took part in the following performances: "Romeo and Juliet", "Life", "Argentine Tango" etc.
2003-2009 the ballroom dance club "Dance Empire" Kyiv city
Finalist of numerous international and regional competitions in Kyiv, Odessa, Kharkov, Donetsk, Dnepropetrovsk, Kerch, Sevastopol, Zaporozhye cities. Participant of International Latin dance sport championship (Ukraine,2008).
2006-2007 dancing instructor (Senior and children groups) in professional dance club "Dance Empire", Berdyansk city.
2010 worked on a cruise ship in the show Lois Majestic ballet.
June 2011-april of 2012 - Egypt, dance experience in professional ballroom and contemporary dance shows. Dancer,
fitness instructor, dance captain.
2012-2013 worked in China in the park Happy is Valley.
Tunisia 2013-2014 Dancer

Education:
2005-2010 graduated from Berdyansk Pedagogical University in specialty ballet-master-choreographer (professional choreography).