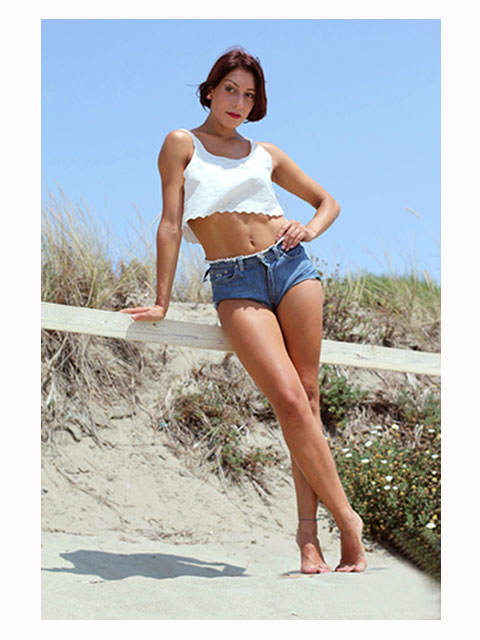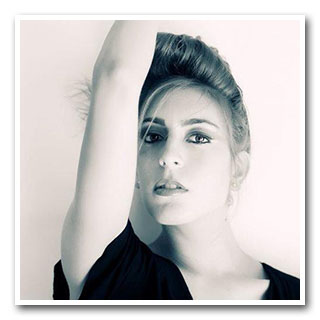 Date of birth: 25/03/1989
Height-1,70 cm
Weight-53 kg.
Skills: Ballet, Jazz, Contemporary, Commercial, Modern, Latin, Salsa, Jive, Basic Acrobatic, Basic Tap, dance, Street dance, Acting, Basic singing.
Professional experience
July 2015:Press conference of company football S.S. Lazio
From June:Dancer in "Circo Bianco".Choreographer Ilaria Leone.Direction Francesca Ghini.
May:Dancer in "Don Juan Club" Theater Quirino Rome.Choreographer Erika Puddu.
Avril:Dancer for Glamour Ballet.Cristiano De Concilis and Natascia De Nicola
March:Performance
Marvin Dj. Dancer/Choreographer. Rome(Italy) February : Show
in "L'Aristo". Dancer for SkyzoArt. Paris (France)
Dancer/Choreographer for singer Viola Valentino in the Carnival Party Rome (Italy)
December-January 2014/15: Musical "Luci sulla Ribalta" with the actress Miranda Martino. Theatre Cassia.
Dancer for Valeria Palmacci. Direction Mariano Perrella. Rome
December 2014:Opening concert singer. Spazio 900 Rome Dancer/Choreographer
Opening concert band Eiffel 65 Spazio 900 Rome Dancer/Choreographer
October :Cabaret "Che Dio ce La mandi bona" Theater Petrolini Rome. Actress,dancer and choreographer
May-October: Dinner show in "L'Opera" St .Tropez (France) Dancer/Model for L'Elonuit
February-April: Singer tour Naples,Rome(Italy)Paris(France) "Se Amore e'" for singer Sal da Vinci.Dancer for Gino Landi.Direction Gino Landi
December 2013-January 2014: 30th Golden Circus Festival
Exhibition for Italian television (Rai 1) Performance for the Pope in St.Peter's Square ,Rome
Dancer for Gabriella Gallo.Liana Orfei.
From October 2013 to today: Cabaret Micca Club, Rome. Dancer Velvelettes/Velvelettes Micca club.
Gay village, Rome. Dancer GIAM.
Night vintage Room 26, Rome.Dancer and choreographer. "Vintage angels" with performer "Doctor Vintage"
May-October 2013: Italian Tour "Tentana Evasione" comedians for Italian television. Dancer/Choreograher.
October: Musical matinee "Regno Di Zock" Actress/Dancer for Stefano Sellati. Direction Stefano Sellati.
September: Beauty pageant "Fotomodella dell'anno", Italian television, Dancer for Claudio Meloni.
July-August: Show "This is him" Dancer/Actress. Jean Michel Danquin.
Music video "Fun fun remix" of "Malandrino" Dancer/Choreographer.
Music Video "Te Quiero, Ti Amo, I love you". DJ Cicco Loco Dancer/Choreographer.
June-July: Musical "My dream is my rebel king". Actress/Dancer for Antonio Orfano.
May: Cube Club Rome. Dancer Manycome Massimiliano Petrangeli.
April: Musical Comedy "L'Amore per bene e per male". Dancer/Actress Stelle Dello Spettacolo company
2011-2012: Tour Radio Cuore Dancer-Soubrette-Choreographer.
March-May 2011: Musical "Burlesque Dalla foglia alla voglia" Dancer-Chorus-Actress for Gino Landi.
June-July 2010: Theme park "Rainbow Magicland" Dancer. The one company.
December 2009-January 2010: Golden Circus Festival with illusionist Heldin. Dancer/Choreographer. Liana Orfei and Scilla Agency
Exhibition for Italian television(Rai 2) Dancer for illusionist Heldin. Liana Orfei and Scilla Agency.
October 2010: Music video. Dancer/Actress.