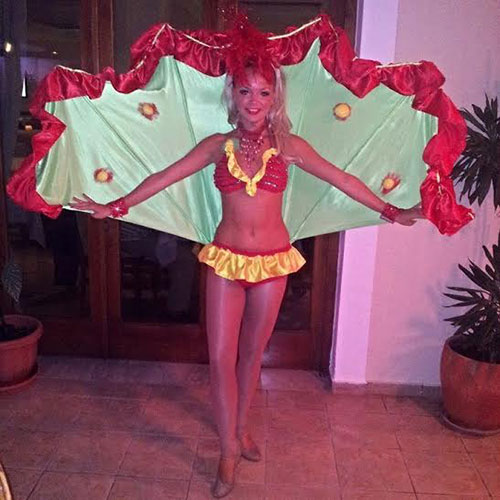 Date of birth: 26/06/1992

Education:
- Selston Arts and Community College 2003-2008
- NCN Clarendon, Pelham Avenue, Mansfield Road, Nottingham NG5 1AL, 2008-2010
- Bodywork Dance Company Cambridge Performing Arts 25-29 Glisson road, Cambridge, CB1 2HA 2010-2011.

Dance Education:
- Age 6-11 - Completed ballroom dancing Rainbow awards and Juvenile bronze.
- Age 11-13 - Passed exams in Freestyle and Street Dance.
- 2006-2010 - Started dance classes in Ballet, Modern Stage and Jazz gaining yearly grades. Last grades passed grade 4, grade 5 and Gold respectively.

Other Education:
- 2005-2008 - Attended weekly drama classes at Ripley Academy of Dance & Drama.
- 2007-2008 - Joined Alfreton Treble Cleff All Girls Choir.
- 2009-2010 - Private singing lessons once a week.
- January 2014 - Started Burlesque dance classes.

Achievements:
- Age 4-11 - I passed all the swimming badges available ending with my Honours.
- Age 11-14 - I joined Kimberley Swimming Club and competed in various competitions and galas.
- Age 14 - I was nominated by my school for a place on the Dance Pathways within the Arts Scholarship. This consisted of 5 days working with Dance 4 in Nottingham, Cathy Marston, Rosie Kay and other professional choreographers.
- April 2009 I was a volunteer for The Life Project in Nottingham who arrange activities for adults with learning difficulties. Over a number of weeks I taught a group a dance routine to Abba to show to their friends and family at a later date. It was a challenging experience but very enjoyable.

Work Experience:
- September 2009 - September 2010 & December 2010 - January 2011
Sales Assistant for GAP Clothing, East Midlands Designer Outlet.
Gap is a global company and has very high standards of customer care which was my duty to uphold at all times. My duties included restocking of the shop, serving customers using cash or cards, keeping the shop/stock looking neat and tidy at all times, changing room assistant and customer returns or refunds.
- March 2011 - July 2011
Lola L's Night club Cambridge
Promotions Girl- giving out leaflets in the day to promote the clubs offers of the night.
Meet and Greet Girl for the VIP Lounge- ensuring that the customers have a positive experience in the club and want to come back and will spread the word to all their friends and family.
- August 2011 - September 2011
Funstar for Haven Holidays (Bourne Leisure)
Varied entertainments program for the guests.
- September 2011 - February 2013
Dancer/Entertainer for Warner Hotels, Corton Coastal Village (Bourne Leisure)
I lived on site with my team members and worked six days a week performing to 300+ guests in
various production shows at least five times a week e.g.; A Night at the Musicals, 70's Boogie Fever, Blues Brothers v's Soul Sisters, Cotton Club, Welcome Variety Night and our Christmas Pantomime.
As part of my job I also had to learn how to use lighting and sound desks for our production shows, the resident house band and visiting cabaret acts.
Other duties include; Late night discos, hosting bingo, quizzes and games, teaching various dance classes to guests, socialising and dancing with guests.
A main part of this job was to socialise and communicate with a wide range of people of all ages and to help them to have a nice experience at Warner Hotels and want to be return customers. Warner hotels promote high standards and I worked to achieve this at all times.
- April 2013 - October 2013
Dancer for Presumed Innocent Show Cyprus
I performed as part of a four group dance team in a Cabaret show which included Flamenco, Show girl, Bollywood, Latin and Can Can dancing, we also performed an Irish dance show in hotels around Paphos Cyprus doing up to 3 shows a night. Many of the hotels were 5 star so standards were very high on and off stage.
- January 2014 - Present Day
Dancer For Reenie's Rockettes
I perform as part of a Burlesque dance troupe.
- April 2014 - October 2013
Dancer for Jango Entertainmet
I was working in Corfu performing 7 nights a week doing different cabaret/tribute shows touring hotels and bars. A few of our shows :-Around the world, Monsters Ball, Latin show, Freddie Mercury, Robbie Williams, Pink, 70's & 80's. These shows included various types of dancing :- Flamenco, Contemporary, Can Can, Irish, Oriental, Bollywood, Showgirl, Jazz, Acro, Commercial.

Performance Experience:
In years 9 and 10 I performed in the school productions of Grease and Fame as a dancer and chorus
member. I also choreographed certain dance routines within the shows.
In December 2006 I danced in a performance at Episodes Nottingham whilst working with Rosie Kay.
In December 2006 I danced in Ripley Academy's Christmas show at The Guildhall Theatre Derby.
As a member of Ripley Academy of drama I was given work as a TV extra
May 2006 - 3 days BBC1 Jane Eyre adaptation
June 2006 - 1 day BBC1 Life on Mars
July 2006 - 2 days BBC1 Doctors
May 2007 I passed an audition to form a group of Contemporary dancers to represent the East
Midlands at the re-opening ceremony of London's Royal Festival Hall.
In September 2007 I joined a local Operatic Society called Present Company we performed at Buxton Opera House-
August 2008, 6 days - Ivor Norvello and Noel Coward in concert, dancer and chorus member.
Glamorous Night, dancer and chorus member.
January 2009, 2 days - Sweet Charity, played the part of Rosie, dancer and chorus member.
August 2009, 4 days - "These you have loved" a gala concert, dancer and chorus member.
Bless the Bride, played Millicent Punctuality, dancer and chorus member.
August 2010, 4 days - Wish Upon A Star, a gala concert, dancer and chorus member.
Beauty and the Beast, played the part of a Silly Girl, dancer and chorus member.
May 2010, NCN end of year show ICONS- many solo and group parts.
June 2011, Bodywork Cambridge end of year show - Played the part of Brooke in Legally Blonde.