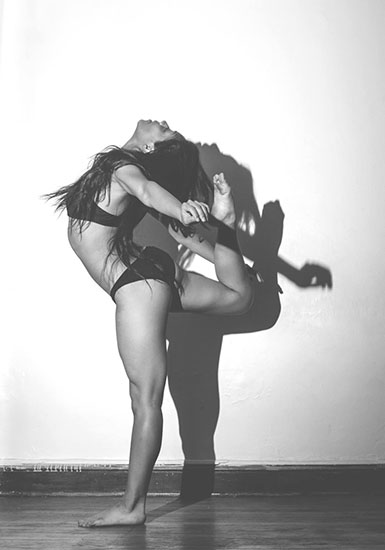 Artistic Studies:
Fashion Dance Performance-2014.
Contemporary Dance Company EFEL danse
Cia. QuelDanse, contemporary dance
Cia. Collective disruption.
Black Studio Centre of Dance and Choreography.
Maximum Talent Dir. Ivan Alonso "TRIZ-t"
Company of Mexico City (2009)
Group Representative Rodarte
Vocational Training Centre in contemporary dance Danse EFEL 7th Generation (2010-2012)
Ballet School Judith Castillo (Generation 1999-2007)

PROFESSIONAL ACTIVITIES:
Dance Independent Living Julian Castillo 2014
Auditorio Nacional "Yuridia Basics Tour" in 2014
Caribbean Cultural Festival 2013.
XIX International Festival of Contemporary Dance Oc'- Ohtic 2013.
XIII Festival of contemporary dance in the Laguna region in 2013.
Cultural Festival of Sinaloa in 2013
Dance season at the Teatro CENART Raúl Flores Canelo, 2013.
Border XXI Festival of Mexicali, Baja California.
Auditorium Theatre "Dr. Flavio M. Mena Jara "Academic Cultural Center-UNAM campus Juriquilla.
Teatro Juarez, Oaxaca, Oaxaca; short season.
Universidad Autónoma de Queretaro, Faculty of Arts; Chamber Theatre
Choreographic Projects Lic. Choreography. CENART.
Feria de San Marcos Cultural Program 2013
Spot TV channel 11 for central eleven.
French Alliance Program, autumn and summer. 2012-2013
Dance series sabadanza University Museum in Poplar.
Collaboration with dancers dancing fun for children and adolescents in 2012, 2014.
Encounter Dating Art and Youth in 2011.
4 th and 5 th Meeting Plural Dance in Mexico City.
4th Meeting of Contemporary Dance from the North.
6th and 8th International Dance Competition Atittude.
5th National Competition of Jazz dance.
International Day of Dance 2011.2012, 2013, 2014; CCB Centro Cultural del Bosque, CCU Cultural Center
UNAM university, Borda Cultural Center, Teatro San Francisco UAEH Pachuca, Aguascalientes.
4 th and 5 th Meeting of Vocational Training Centres in contemporary dance.
Meeting New Dance and New Music (emission IV, VI, XI, XII, XIII)
Celebrations Grito de Independencia 2006 Socket Capital.