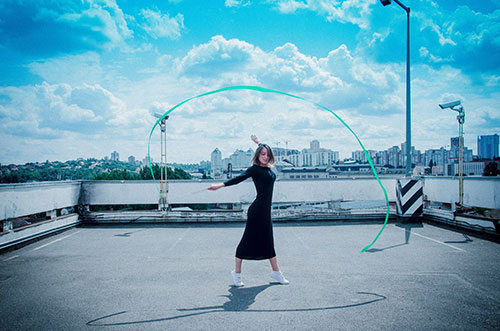 DOB-1993
Height-170 cm
Weight-51 kg

Types of dance: contemporary, modern, hip-hop, jazz-funk, go-go.

Experience of working as gymnast and a dancer:
-CMS in Rhytmic Gymnastics, have finished sport school. Have taken part in official and international competition (1998-2009).
-Won the official and international competitions, silver medal in Ukrainian Cub of Rhythmic Gymnastics in 2008-2009.
-Have worked and performed on Senior's level on the International competition in Rhytmic Gymnastics ( have competed with MS in Rhytmic Gymnastics).
-Was the member of the team in Rhytmic Gymnastics of Kiev region.
-In Ukraine (Kiev, Chernigiv, Brovary, Cherson, Kharkiv, Lviv, Simferopol, Sevastopol, Odessa and another)-clips, shows, concerts, work with the Ukrainian stars.
-In Spain (Barselona, Valencia, Benidorm)-non-stop show with show - ballet, dance solo (flamenco), gymnastic acts, hip-hop (In summer 2012).
-In Turkey (Istanbul, Summer 2013)-show program with show-ballet, go-go (concerts with the singers, opening of the clubs).
-Romania (Buharest, 2015)-work with show-ballet in the club.
- China (Sanya, 2015-2016) - work as a gymnastic in the circus ( Hi-Ten circus) and as a dancer with show- ballet.