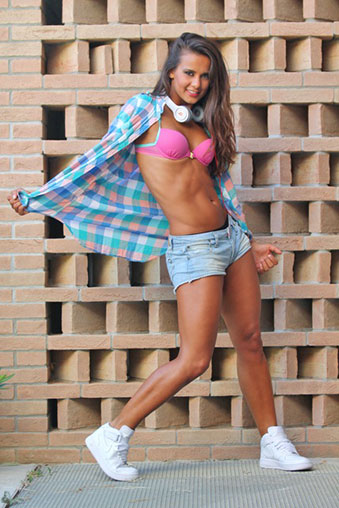 Date of Birth: 1991
height and weight: 171 cm. 58Kg

Technical skills and competences:
Studied:Jazz,Ballet,Modern,Contemporary,Cunnigham,Contact,Release,Lyrical,Hip Hop. Vocal Tecnique with Tamara Soldan.

Experience:
2007: audition at l'Accademie Europenne De Danse Jazz, Nizza directed by Serge Alzetta and bacame member of dance group AEDJ.
2009 / 2011:practiced in Scuola Del Balletto di Toscana directed by Cristina Bozzolini at Florence.
2011: Studied at M. A. & S. Academy, Milan.
May 2012: Flash mob for TRL Music Awards, MTV.
February 2012: Dancer and Performer in the Theater at Holiday center Isuledda,Sardinia.
2012:Dancer in the video LipDub, for the Milan agency Ipromotion
March 2013: dancer for the live tv show "Nuotatori Milanesi" Rai Uno.
April 2013:Dancer and performer at the Garden Club, directed by Daniela Gorella.
November 2013: Dancer in the Event BEA-Best Events Awards, Milan at the "National Museum Of Science And Technology."
March/September 2014: Dancer and Performer in the amusement park: "Gardaland".