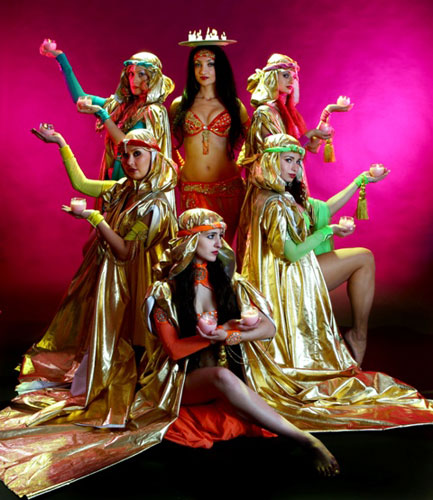 Belly Group:
is a rising star on the belly dance scene, featuring well-established and professional belly dancers. This New York based troupe takes elements from classical Lebanese and Egyptian belly dance (raqs sharqi), as well as Modern and Near Eastern dance styles and incorporates them into a style that is uniquely its own, thrilling both Middle Eastern and International audiences alike. Remarkable and original group numbers and distinctive solo dances characterize the group as one of New York's hottest. Each talented dancer relays her individual personality to the audience while transporting the viewer into a realm of scintillating fantasy and art.

LaUra is a world-class Belly Dancer, instructor and choreographer who developed her craft through diligent work and supervision of well-known teachers. She is a Founder and choreographer of Belly.

In 1990s she toured in Lebanon, Beirut, where she had a great pleasure to learn from a well-recognized belly dance performer - Margo Kalfayan. After the extensive training and the development of fundamental and necessary techniques, LaUra continued to extend her professional stage experience. She performed under the exclusive entertainment contracts in several 5-star hotels and festivals around the world included India, United Arab Emirates, Switzerland, Yemen, Egypt and other countries.