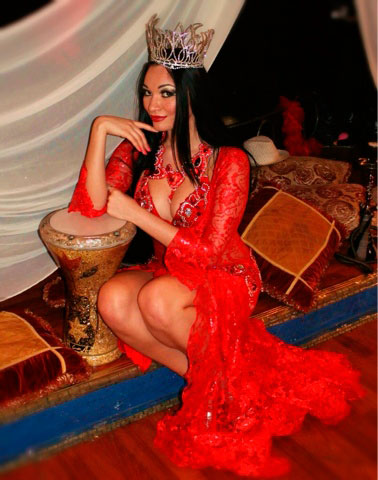 Date of birth: 23.05.1989

Experience:
- 2009 contract in Turkey as part of the group show "Feeriya" also bellydance show
- 2010-2012 work in Russia performing at weddings.
- 2012 contract in Istanbul on Turkish, Iranian and Arab parties, as well as a part of the show "Turkish Night"
- 2013 contract in Bahrain bellydance performing
- 2013-2014 at the moment - Jordan contract raks sharki show Hotel "Radison","Movenpick"and extra show in the desert Wadi Ram, Petra,Arabic weddings in Amman.

Awards and achievements:
Russian and international competitions oriental dancing(2010-2013 International Festival on the east and Indian dances "Jamila" prizes-2010-3rd place nomination "folklore",
2011-2 place nomination "folklore",2012-3 place nomination " show",2013- 1 place nomination " raks sharki"
international competition dance art "diamond" 2013 - 1st place solo improvisation
Workshops of the bellydance stars of Egypt and Russia, like as Randa Camel,Aida Hassan,Leila,Anna Borisova,Olga Iltimirova,Natalya Hesterenko and et all.