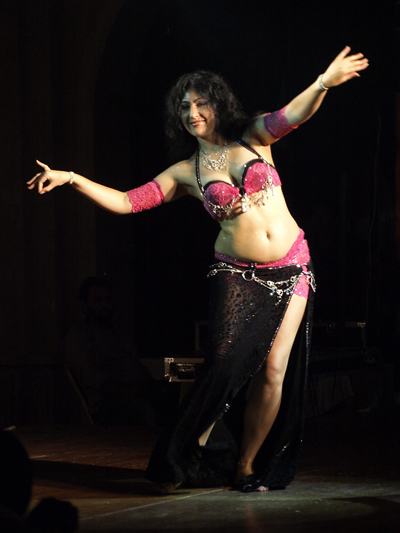 Languages spoken: English
Show includes antre, shaabi song, balady -solo, folkloric part (saidy), classical composition, tarab, tabla-solo.

Education
Balley (choreography)school -Ukraine
Donetsk national University -Ukraine
2006-2015-Professional Oriental Dance Courses, Workshops from world leader-teachers of Oriental Dance (Farida Fahmy, Raqia Hassan,Randa Kamal, Asmahan, Khaled Mahmoud, etc.)

Trainings
Okt.-nov. 2009 Orienral dance classes with Ragia Hassan, Randa Camel, Jasmin 0f Cairo and other stars of world-bellydance. Egypt, Cairo
June 2011 International oriental dance Festival, classes of Tito Seif, Khalid Mahmood, Dalila of Cairo, Liza Laziza, ets. Egypt, Cairo



Work experience
1997-2006 worked in professional belley troup in Ukraine
2006-2011 Performed on belledance festivals, weddings, TV-shows, big events in Ukraine
2010 worked successfully as bellydancer for 5-stars hotels in Egypt, such as Sheraton (El Gouna), Marina (El Gouna), Hilton (Hurgada), Hilton Plaza(Hurgada), Marriot (Hurgada), ets. Worked with live bands or CD. Egypt, Hurgada , El Gouna
2010-2011 Performed in 5-star hotel Piramisa and wedding parties, Cairo, Egypt Egypt, Cairo
2011-Champion of Ukraine in Oriental dance in category "Professionals";
2011-Winner of Grand Prix International Festival of Oriental Dance among
2010-2014-Solo-Bellydancer for 5-stars Hotels of Egypt (Cairo, El-Gouna, professionals;
Marsa Alam);Performer and participant of biggest world festivals of oriental dance (Ahlan Wa Sahlan, Nile Group, Cairo);School for adult student and children, Donetsk, Ukraine;
2012-2015-Art-Director, Choreographer, Leader-Teacher of Oriental dance Judge of Ukrainian and international competitions and festivals of bellydance; Master-teacher of workshops for professionals and amateurs of Bellydance; Performer on Gala-shows of Dance-festivals and Events.