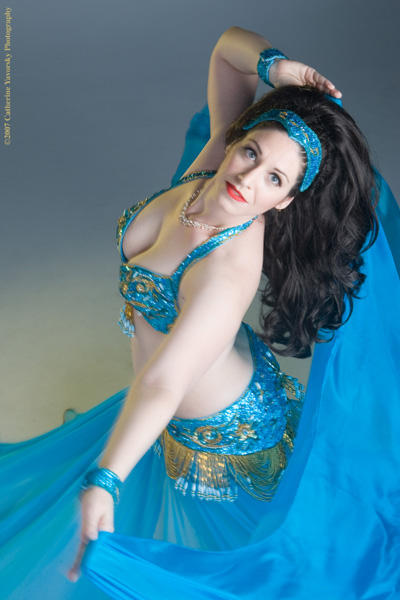 She is a traditional Egyptian and Middle Eastern Style Belly Dancer. Her show is customized to suit each occasion, whether a large festival stage, corporate event or wedding hall.

She can perform to live and recorded music, both choreographed and improvisationally, for up to 1 hour. Costuming can be traditional, modern Egyptian, themes or fantasy and prop use includes veil, zills, cane, valase, malaya leff, shamadan and the modern Isis wings.

Dancer has performed for the Royal Families of the Middle East as well as headlined in the nightclubs and restaurants of Los Angeles, California. She has worked with the top Middle Eastern musicians in the USA including nightly shows with Issam Houshan, Gamal Goma, Amir Sofi, Mohamed Salem and John Bilezikjian.


She holds numerous 1st Place competition titles including:


Queen of the Nile


Belly Dancer of the Universe - Egyptian


Belly Dancer of the Universe - People's Choice


Arabesque Belly Dance Competition


She has a foundation in ballet, jazz, and modern dance. She began her dance training in Western Dance and has studied extensively under master instructors such as the legendary Donald McKayle (mentor to Alvin Ailey) and Bernard Johnson, dance star of theater, stage and screen.

Dancer has studied Middle Eastern Dance extensively and professionally under the masters Angelika Nemeth, Hallah Moustapha, Ragia Hassan and countless master workshops.

In addition to performing Middle Eastern, jazz, ballet, modern and fusion dance, Sabrina has starred in numerous national television commercials, theater productions and has modeled for famous department stores.