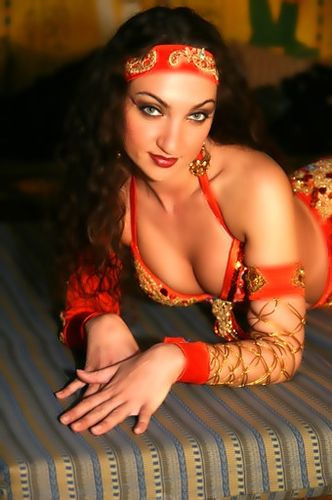 She is a world-class Belly Dancer who developed her craft through diligent work and under supervision of renowned teachers. She possesses the power to hypnotize the audience with her enchanting moves.

She was born in Tashkent (Uzbekistan), into an ethnic and artistic family. Her mother, a professional ethnic dancer, was a granddaughter of one of the greatest Uzbeki poets of all time - Hamza Hakimzoda Niyazi.
Laura's attraction and passion for dance flourished over the years. Six years of ballet school in Uzbekistan evolved to practices of Russian and Uzbek folklore dancing under the supervision of well-known professionals. Under such experienced tutelage, LaUra was able to develop herself as dancer, artist as well as a dazzling entertainer.
At the age of 15, Laura met Loren Victoria Gray who introduced her to the enchanting world of belly dance, while being a guest teacher at the National Ballet School in Tashkent. Ms. Gray is a founder, choreographer and artistic director of the Silk Road Company.
She began her professional career as a belly dancer in Lebanon, where she met Toros Siranossian. Mr. Siranossian is a one of the biggest entertainment agents, who in turn offered her opportunity to tour around the Middle East – Lebanon (Beirut), UAE (Dubai, Abu Dhabi), Yemen (Aden) as well as in Switzerland and India.

Throughout the years, she studied with some of the best known teachers of the art of Belly Dance in the World: Samara of Lebanon, Yousri Sharif, Delilah, Laurel Victoria Gray, Raque Hassan, Aida Nur, Tito, Kodr Muminov, Hassan Afifi. In Beirut, she had a great pleasure to learn from a well-recognized belly dance performer - Margo Kalfayan.
She performed for celebrities such as Enrique Iglesias, Milla Jovovich, and Cameron Diaz
In 2005, Laura traveled and worked on the West Coast in locations such as California and Las Vegas. While in Las Vegas, she shared stage at concert "Arabian Nights Extravaganza III" with such Arabic stars as Nawal El-Zoghbi and Fadel Chaker.
In 2007, she was featured in Suzy Evans IAMED video "Belly Dance o Rama-2". Dancer was invited by Ana Berna to be a part of "Belly Dance TV: Volume 3" where she will be featured as a rising star.
In July 2007, Laura took part in the International Belly Dance Convention that was held in Las Vegas. Out of 25 professional belly dancers, she placed as the 2nd runner up at the Professional Solo competition. Currently, LaUra is the founder, choreographer, and director of dance and entertainment company "Belly Trance." Located in New York City, the company provides unique and extraordinary entertainment for parties, corporate events, concerts and festivals.

Nile
Restaurant & Club

Le Sajj
Lebanese Cuisine

Chinar on Staten Island

Laura are available for Private or Corporate Events.