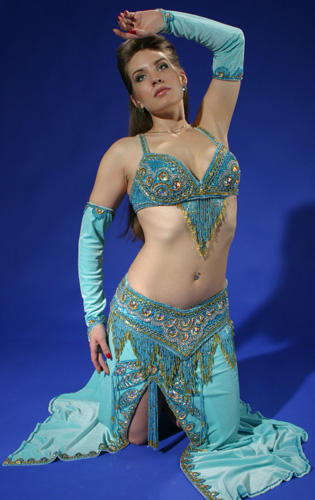 She can perform up to a one hour show program in both improvisational and choreographed works to recorded and live music. Blending pan-Arabic and Turkish Oriental dance, She has a varied repertoire, demonstrating the many moods and flavors of Belly dance. With an array of beautiful costumes to facilitate changes throughout her show, Dancer can include dynamic props in her performance such as the Egyptian candelabra dance, cane, dancing on wine glasses, dancing while balancing a sword, veil work, and finger cymbals.

She has been the featured performer for luxury venues all over the world, as well as prestigious organizations and companies, a few of which include;


Sayaji Grand Hotel, Indore, India


Lucullus, La Goulette, Tunisia
"Salome is a professional, everyone appreciated her stylistic and fine work." - Chekib, Director of "Itareb", house band for Lucullus


The Saturday Club and Night of the Pharaohs, Calcutta, India


Casino Everest and Casino Royal, Katmandu, Nepal
"We had seen many Belly dancers but Salome comes across as a breath of fresh air. She is spontaneous and vibes extremely well with the audience. Her grace and class give a completely new dimension to the art of Belly dance. I do hope we get many more opportunities to work together." - Raju Singh Sondhi, Director of DMI Entertainment


Kamogawa Grand Hotel and show program "Kiss Me Odaiba" on national television network "NHK", Kamagawa and Tokyo, Japan
"A very beautiful Belly dancer!" - Shuichi Ishii, Talent Agent of Sankyo Promotions


Great World International Village, Kang-Shan, Taiwan, Republic of China
"An excellent dancer, I would happily engage her again at any time." - Mr. Chen Ming Lung, President of Great World International Village


Taj Bengal Hotel, Calcutta, India
"We had hired Salome for a 6 city tour in India for a private airline company, Jet Airways Ltd. We found her to be a fantastic dancer. Her choreography is very good, her stage-craft precise, her routines interesting and well presented. She gives mind-blowing performance and she impresses the crowd with her scintillating moves. I highly recommend her for any future performances." - Omer Haidar, Director of Showhouse

Additional Skills: Choreographer, Oriental dance Instructor.

Stats: nationality/American, Height/5'5, Weight/128, Hair/honey blonde, Eyes/light Blue.