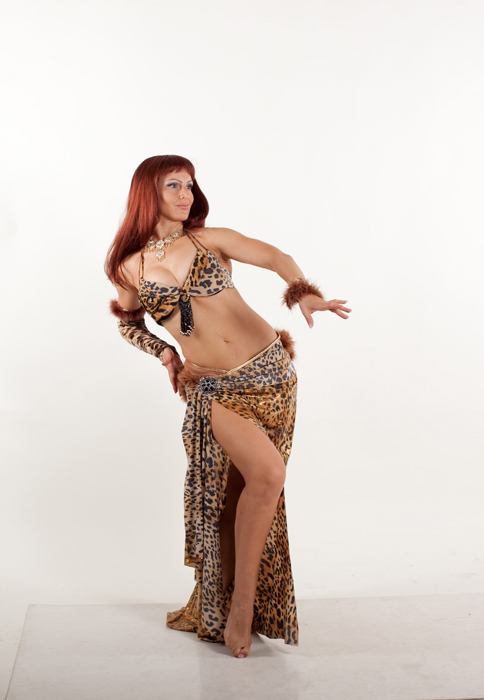 Professional dancer and choreographer.

Education : Graduated in 2011 from Kyiv National University of Culture and Arts, Department of direction and choreography, and I've got the qualification of a bachelor's degree in choreography contemporary classical choreography.
Known languages: English (spoken and written), Ukranian, Russian, little spoken Arabic.
I've been working as a ballet dancer in the theater of Drama and Musical Comedy named by Schepkin since 2008. I studied classical dance, contemporary, ballroom dance, folk. I have experience of working with an orchestra.
Also I 've been working in the style of oriental (bellydance) since 1999. Laureate and prizewinner of many competitions and festivals (double winner of competition "The Crimean dancing trophey 2006", Ukraine; bronze prizewinner of international festival "Nile Group" Cairo 2007 and others). My teachers were well-known masters of Egypt (Mahmoud Reda, Raqia Hassan, Khaled Mahmoud), of Russia (Nur, Elena Ramazanova, Aida Hassan, Natalia Fadda and others), Ukraine and other countries. All were confirmed by certificates.
I have my dance group - Oriental Dance Theatre and School of Oriental dance "Balkees" since 2003. I am a choreographer. With my dance group we staged two solo concerts and two dance performances ("Mystery of the Queen of Sheba" 2009, "Big Adventures of Little Muck," 2010) . I'm a judge in many competitions and festivals in the Ukraine.
Experience: dancer in show-ballet (Syria, Moscow), as a solo bellydancer at a contract work in the restaurants ("Shafran" - a chain of restaurants world map, "Corona", "Ashsham" etc.), night clubs, performances on corporate parties, weddings (Moscow, Ukraine).
Offered: At this point, I have 3- 4 ready solo programs for 30-40 minutes in the style of bellydance, which includes the classic oriental dance (Om Kalthum , Khalim Hafiz, Warda), folk (saidy, balady, dabke, haliggy, morocco), tabla solo, belly dance show with accessories ( stick, wail, fan, daggers, wings, candelabras), oriental dance with pointes.
I can work in show ballet as I have a choreographer's education and experience in this field (see above)
All above-mentioned information is true and correct according to my knowledge and belief.