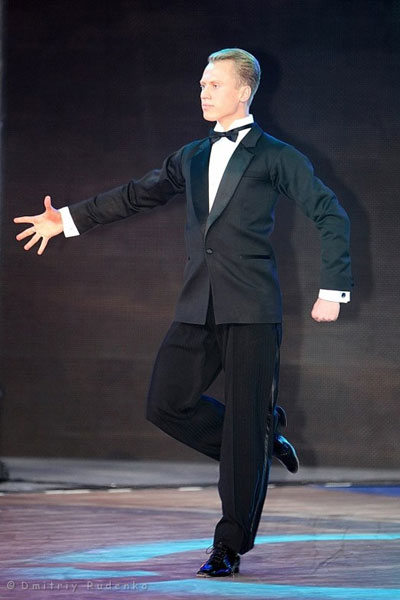 Born in September 10th, 1986. Since then, he has been very involved in the dance world and has made a career out of his love and passion for the sport. His dance career has included many different experiences making him a master of ballroom dancing and a champion of sport and ballroom dancing for the Republic of Belarus. He has been like a champion of Republic of Belarus and also many times silver and bronze champion.

Over the years, Viacheslav has won various awards and competitions and been a finalist in various international championships. For example, he placed 11th in Salzburg, Austria as a semifinalist of the World Cup (2007) and placed 8th in Spain-Valencia for the European Cup (2007).

In Minsk, he placed 5th in the East European Championship, making him a finalist in the prestigious event (also in 2007). Has been many times finalist of international competition in Russia, Ukraine, Poland, Lithuania, Latvia, Georgia, Denmark, Spain, Austria.

In addition to his successes on an international competitive scale, Viacheslav has also won, and/or been involved with many highly regarded events including the popular TV project "Dancing with the Stars". In 2009, Viacheslav and his partner Elena(singer) won the title for "Dancing with the Stars" in Belarus. In 2011, Viacheslav returned to the show in Istanbul, Turkey and participated in the project but had to leave the competition due to his partner's health. In addition, he was the winner of a Belarusian competition among talented youth in 2010, "The STAR Raise Under Belarus" which included over 4,000 participants. These are just a few of the many victories and successes Viacheslav has had in the international dance community.

Not only do his performances bring him critical acclaim, but Viacheslav has had a great deal of experience as a dance teacher around the world. He has taught in places such as Singapore, Indonesia, Malaysia and Turkey.

In 2012/2013, he worked with one of the largest American organizations, "Royal Caribbean Cruise Lines" as a dancer/dance instructor traveling the world and teaching hundreds of students from various countries onboard the "Azamara Journey". Not only was he part of various production shows, but he performed as a featured dancer and showcased his talents to a vast audience.
Currently, he is a coach and judge for one of the most popular and highly regarded dance clubs in Belarus, "Dance Club "Liudmila".









The talent agency "Rising Stars" can help you find and book ballroom dancers for cruise ship lines, casinos, resort hotels, dinner dances, TV commercials and shows, award nights, banquets, celebrations, cocktail parties, grand opening parties, holidays and other entertainment occasions.

Take a quick search through our dance catalog categories, instantly find and book ballroom dancers from many countries. Our catalog presents ballroom dancers from Belarus, Bulgaria, Brazil, the Czech Republic, Estonia, Latvia, Lithuania, Netherlands, Poland, Slovakia, Spain, Italy, Germany, France, Russia and Ukraine.

Why book ballroom dancers through the "Rising Stars" talent agency?

- Vast directory of professional ballroom dancers

- Choose the best ballroom dancers yourself

- Exclusive ballroom dancers from Russia and Ukraine

- Audition video on-line, photo gallery and press kit

- Casting video on-line

- Compare dancers

You may use our international entertainment database as a "dancer's directory" in which you click your way to the dance category or sub-category of your choice through the corresponding heading. Click on the name of the performer, and the full page press kit will open up. You can research the directory with a targeted search by name or key words as well.

The talent agency "Rising Stars" makes it easy to find the right ballroom dancer for your occasion. Wherever you need an elegant ballroom dancer for entertainment, you can call on our best ballroom dancers for booking.