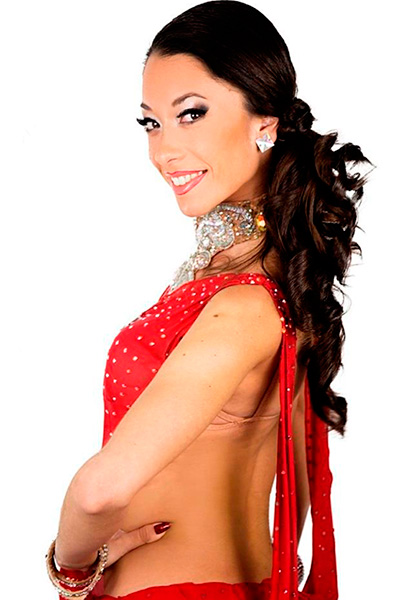 Laura

Year of Birth: 1991
Weight: 48kg (105.0 lb)
Height: 165 cm (5'5'')

Training:
2014 - until the present If the availability of the work allows it
Taking lessons of Flamenco level medium Masters Dance School (ontinyent)
2011 Certificate instructor funky and hip hop by the Spanish federation of personal trainers and fitness Vital sport
2008 - 2011 Funky, hip hop lessons E&D dance school (Ontinyent)
1998 - 2011 13 years training in Latin and standard ballroom at dance.
2008 - 2010 Ballet lessons Masters dance School (ontinyent) intermedium level
1998 Beginning in a flamenco style (Sevillanas)

Dance schools:
o Piedra Escrita Medina Dance School in Paterna
o Elite Dance School, with Lorena and Toni Costa (featured on Dancing with the Stars
Spain and south UUEE) and international teachers Stefano di Filippo, Analissa di
Filippo, Anna Melnikova ,Charles Guillaume Schmitt, Andrea Zaramella and Letizia
Ingroso (world championship winners)

6 years competing at the highest level in Spanish ballroom competitions. (Adulto 1 AI standard and Latin)

10 years' experience on the stage, working in exhibitions and shows.

Experience:
Competition experience:
- Competing around all Spain since 8 until 20 years old, International National, Regional competitions and Spanish Championships:
-Most important competitions:
Latin Spanish Championship Cangas
Latin Valencia championship
Dance Sport Cup Alcobendas (Madrid)
Spanish Championship10 dance en Zaragoza
Latin Spanish Championship Guadalajara
II Olimpiada del Baile en Salou
Latin Spanish Championship Lugo
Circuit Valencia Baila
Spanish Open Salou 2011

Professional experience:
January - March 2017 Luxury Resort Soneva Fushi (Maldives)
Performing as a ballroom dancer, and teaching ballroom to the guest.
august 2016 Princess Cruise performing ballroom 1 week as a guest artist.
- Star Cruise:
2016 Resorts Word Manila, Philippines - (3 month contract)
Performing as a dancer and ballroom dancer.
2015 - 2016 Super Star Virgo, featured in 4 production shows as a dancer and ballroom dancer, teaching Ballroom lessons and a choreographing on the talent show for passengers
(12months contract)
2014 Super Star Libra, featured in two production shows as a dancer, ballroom dancer, and main character, as well teaching Ballroom for passengers (10 month contract)
2013 Star Pisces, featured in a magic shows and a production show, both as ballroom dancer, dancer and main character - (6 month contract)
2013 Ballroom Dancer in Colorline Ferries, Kiel to Oslo - (1 month contract)
- "Revista Luis Pardos":
2013 Luis Pardos Company, Zaragoza (Spain) - featured as a dancer in a "variety show"
2010-2012 Ballroom Dancer, "Variedades", Luis Pardos Company, Zaragoza, Spanish Tour (sharing the stage with Spanish Stars including Karina Malena Garcia, Carmen Flores, Manolo Royo, Hermanos Calatrava)
2009 Ballroom Dancer and dancer, "Elite Show Dance", Sala Canal Pinedo. (Valencia)
2008 - 2013 Standard and Latin teacher at E&D and Entre Tangos dance school. ( Ontinyent )
2008 Ballroom Dancer, "Simply Ballroom" Simon Duval, Qdos Entertainment, Torrevieja and Benidorm Palace.(Bendorm)

- Other Skills:
Languages: English( semi- fluent); Spanish and Catalan (Native)
Choreographing all by herself Latin and Standard ballroom performances.
Ease to learn any type of dance, lifts or interpret.
Certificate Familiarization and security awareness (SOLAS)






The talent agency "Rising Stars" can help you find and book ballroom dancers for cruise ship lines, casinos, resort hotels, dinner dances, TV commercials and shows, award nights, banquets, celebrations, cocktail parties, grand opening parties, holidays and other entertainment occasions.

Take a quick search through our dance catalog categories, instantly find and book ballroom dancers from many countries. Our catalog presents ballroom dancers from Belarus, Bulgaria, Brazil, the Czech Republic, Estonia, Latvia, Lithuania, Netherlands, Poland, Slovakia, Spain, Italy, Germany, France, Russia and Ukraine.

Why book ballroom dancers through the "Rising Stars" talent agency?

- Vast directory of professional ballroom dancers

- Choose the best ballroom dancers yourself

- Exclusive ballroom dancers from Russia and Ukraine

- Audition video on-line, photo gallery and press kit

- Casting video on-line

- Compare dancers

You may use our international entertainment database as a "dancer's directory" in which you click your way to the dance category or sub-category of your choice through the corresponding heading. Click on the name of the performer, and the full page press kit will open up. You can research the directory with a targeted search by name or key words as well.

The talent agency "Rising Stars" makes it easy to find the right ballroom dancer for your occasion. Wherever you need an elegant ballroom dancer for entertainment, you can call on our best ballroom dancers for booking.