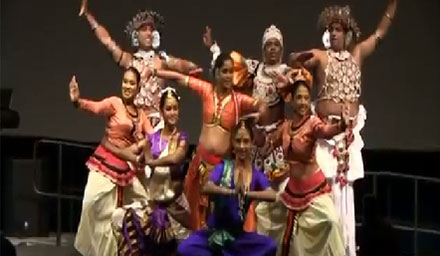 SRI LANKA DANCE TROUPE
1984 VISIT TO BAHRAIN AND USE . Week long dance Performances at Ramada Hotel
also Performances in UAE.
1985 Participated as Director of Sri Lanka dance Troupe at Intl. Tourism Festival. in Kuwait.
1988 GERMANY 3 Week tour of West Germany with Troupe of 18 dancers. Hamburg,
Berlin ,Stuttgart, Hanover,Darmstadt
1996 ASIAN FOLKLORE FESTIVAL IN THAILAND. Director of Sri Lanka dance troupe.
1987 THAILAND. Organised and participated at Sri Lanka Dance festival held at Tawana
Ramada Hotel BKK and also at Sofitel Khon Kaen. 10 days
1988 Thailand Organised and participated at Sri Lanka Dance Festival at Novotel,SiamSquare, BKK and Sofitel Khon Kaen.
1999 Thailand . organised participated at the Sri Lanka Dance Festival at Dusit Thani Hotel, BKK.
2000 Apr.Nan Yin International Festival Taiwan.
2000 Dec. ping tung Festival in taiwan.
2001 Kaohsiung Intl. Festival, Taiwan.
2002 Feb to 2005 Dec. Permanent Dance Troupe performing at AROUND THE WORLD THEME PARK , KAOHSIUNG , TAIWAN.
2002 DEC.THAILAND. Loy Kra Thong Festival Lampang, Thailand.
2004 THAILAND Loy Kratong Festival in Lampang.
2004 MATAAF FESTIVAL IN ISRAEL.
2006 JAN TO 2012- Permanent performances in Taiwan by 6 member Acrobatic and Dance Troupe.
2007 April SONGKRAN FESTIVAL IN LAMPANG.
2007 Aug. INDIA, Performances for 5 days in Kashmir.
2007 DEC WORLD DRUM FESTIVAL IN KUALA LUMPUR.
2008 MALAYSIA - NEGERI SEMBILAN FESTIVAL CIOFF Festival.
2008 NOV. ASIAN FOLKLORE FESTIVAL IN LAMPANG Organised by CIOFF
2009 April Songkran Festival in Lampang. Organised by Thai Cultural Ministry..
2010 April- MALAYSIA .INTERNATIONAL FESTIVAL IN MALACCA.
2010 JULY THAILAND INTERNATIONAL FOLKLORE FESTIVAL ., YALA, Organised by Thai Cultural. Ministry.
2010 Sept INDIA AIM Festival in Bangalore
2010 Dec. THAILAND INTERNATIONAL FOLKLORE FESTIVAL IN BKK in Honour of H.R.H.Thai Kings Birthday.Celebrations.
2011 AUG. THAILAND- International Folklore Festival in HONOUR OF THAI QUEENS BIRTHDAY.Celebrations
2011 SEPT. INDIA AIM FESTIVAL BANGALORE.
2012 JULY MALAYSIA GTF 2012 IN PENANG
2013 Sept. ATF Bangalore
2014 April Performances in Chiang-mai Thailand

Show Program
1. Magul Bera or Ceremonial Drumming
2. Pooja Dance by Girls - this is a dance to invoke the Blessings of the Guardian deities of fine Arts on the dancers as well as the audience.
3.Ves dance this a dance performed by Males wearing glittering silver head dress etc.. which was originally performed only before Royalty.
4.Goyam kepima- or Harvesting dance - by girls.
5 Kulu Dance- Winnowing dance by girls.
6.Mask dance. dancer wears a large 18" inch mask.
7. Lee Keli- dance using 2 wooden sticks held by each dancer.
8.Fire Eating Dance. the dancer rubs lighted torch on his body and hands and also puts it into his mouth.
9.Raban spinning- Here the dancer spins upto 10 flat drums with stick held with his mouth and hands- while the Drums keep spinning.
10.Modern dance by girls to the Rhythm of music.
11.Peacock dance dance depicting the movements of the Peacock.
12.Pantheru Dance here the girls dance with Tambourines held in their hands.
13. Karanam dance- here the Dancer while dancing makes several somersaults.
14. Kalagedi or Water pot dance- here the girls dance with water pots held in their hands.