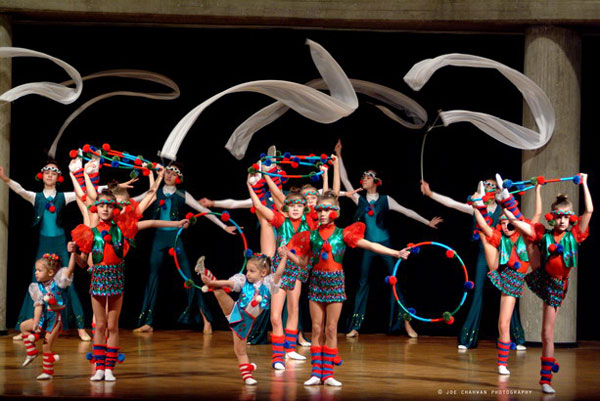 Ensemble founded in 1990, is a show based on gymnastics, acrobatics and dance. The ensemble has a cast of 60 children (girls and boys from 5 to 18 years old) with a concert ensemble of 24-30 people.

In 1995, the ensemble was awarded the title "Model Team"
In 1998, they won the title of "National team of Ukraine"
Ensemble V is a several time Laureate of the All-Ukrainian Festival "Talents of yours, Ukraine!"
Winner of the International Festival "Kyiv Chance"
International Festival "The Magic Pearl"
Holds the Grand Prix Festival of Kiev Spring - Children of Chernobyl "
Grand Prix at the International Festival "The Pearl of the Nile in Egypt
Grand Prix Festival "Young Talents" in KyrgyzstanIn 1995 and for the following five years they were participants in Days of Culture of Ukraine in Lebanon, annually performing at colleges, and universities, before an adult audience. 2003 and 2004
Christmas holiday shows in Germany
Successfully performed at the opening of the park "Magic Land" in Egypt.

No. of Artists: 16 - 20 actors.
Standard number of Shows/Day: 1 or 2 Shows/Day
Show Duration: 60 - 70 minutes.
Cargo/Overweight Details: Weight of a cargo of 100 kg (concert suits, gymnastic and circus subjects)
Technical Requirements: The size of a stage 8 x 5 meters (minimum).
For circus performances - height a stage 6 - 10 meters (for fastening the equipment).
City of travel: Kiev.