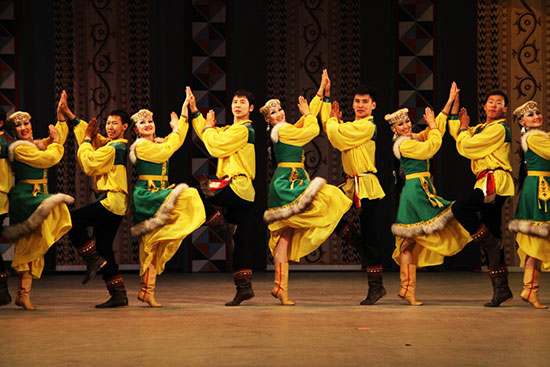 The theater consists of a dance troupe in the amount - 34 people, a vocal composition - and 3 National Orchestra - 23. The overall composition of touring trips for 30 people. The repertoire of more than 20 full-length plays, 18 dance tracks, 5-concert programs.

The theater's repertoire consists of:
Ceremonial dance presentation-related philosophy, mythology and rituals of black and white shamanism udaganstva.
Ritual performances - Holidays associated with the calendar and fishing complexes rites.
Original samples of music and dance culture of the peoples of the North.

Experience:
October 2012
In October, the Mongolian Dance Group - participated in the prestigious competition within the international festival of folk dance called World Dance Festival in the South Korean city of Cheonan. And more than successful! Team of Yakutia took second place in the week of the marathon, as well as special prize from the mayor.

May 2013
Mongolian Dance Group - participated of 13 artists under the supervision of the Director in ceremonies and concerts of the International Festival of Youth and Sports, jointly organized by the Turks and the Ministry of Youth and Sports of the Republic of Turkey in Ankara from 13 to 20 May 2013. In a memorable show featuring 400 artists from 25 countries were presented folk songs and dances of different Turkic peoples.
The main theme of the submission was friendship and harmony between peoples. The festival has become an outstanding event in the cultural life of the Turkish capital.