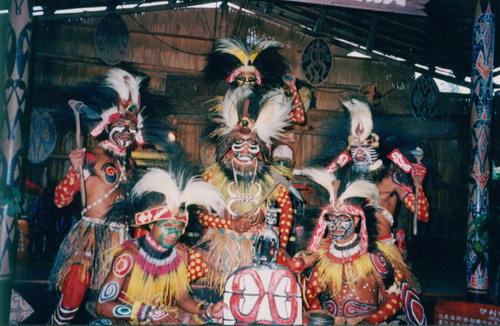 IRIAN JAYA DANCE GROUP

IRIAN JAYA The western part of the island of New Guinea, this is one of the last great unexplored areas of the world. Even today, visiting ships are often greeted by flotillas of warriors in war canoes. All those intending to visit Irian Jaya must obtain special permits from State Police Headquarters in Jakarta. Travellers are advised to avoid this area at present.

The leader of group is MR FREDDY DH TOROBY, found this group in 1995 as group name is GROUP MUSIK DAN LAGU REBALI/THE GROUP OF MUSIC AND SONG OF REBALI from abepura , Irian jaya, papua the western part of the island of New Guinea and the east part of Indonesia. And This group had been show in Singapore, Japan, Taiwan For dance and music festivals for the past years.

Dancing is considered an art, encouraged and practised from very early childhood. The extensive repertoire is based on ancient legends and stories from religious epics. Performances are given in village halls and squares, and also in many of the leading hotels by professional touring groups. The dances vary enormously, both in style and number of performers. Some of the more notable are the Legong, a slow, graceful dance of divine nymphs;

The dance programme are

1. yospahne dance,
2. war dance ,
3. tusuk telinga,
4. neiling the ear,
5. suanggi drama dance and
6. canoeing dance by aboriginal irian style, all the dances are fill in with native Live style of Irain Jaya people and Irian dancers use our nature color printing on our bodies and skin with Asmat Arts Pictorial Graphics printing which is colorful and charming, and use paradise Birds as our head dress, use Bushes reed as our clothes costumes in dances, We will bring all of you to the Jungle trips and see the wonder of nature!!!