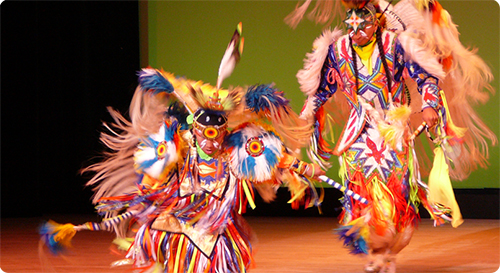 Rainbow-colored regalia, pulsating drumming, and fancy footwork are part of the excitement of a Native American powwow. They perform flamboyant movements passed down by their ancestors thru song and dance.
Dancers provide theatrical and entertaining performances for various venues including theaters, festivals, and convention centers. They also collaborate with many established and up and coming artists throughout Indian country and on the mainstream stage.
Based in Minnesota, the Dancers perform locally, regionally, nationally, and internationally. Recent notable performances: Kazakhstan US Embassy Tour 2015, Guatemala US Embassy Tour 2014, 2013 Macy's Thanksgiving Day Parade, Republic of Moldova US Embassy Tour 2013, Kingdom of Jordan US Embassy Tour 2012, WeDay at the Xcel Energy Center in Minneapolis, MN, The National Museum of the American Indian in Washington DC and NYC, The Steppingstone Theater in St. Paul, MN, and The Cowles Center for the Performing Arts in Minneapolis, MN, as well as numerous schools, universities, and festivals across the country and throughout the world.
Their mission is to educate, inspire, motivate and empower
diverse communities to bridge cultural gaps through Indigenous traditions.