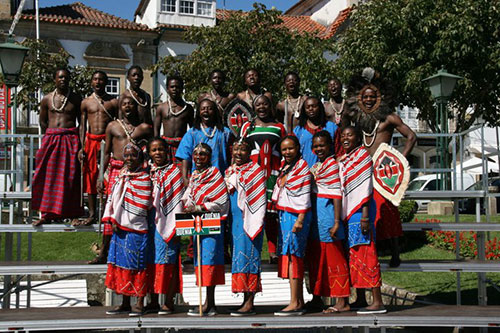 Is a powerful group of folk dancers, musicians and acrobats, is composed of 35 young and talented ,male and female artistes.

As cultural ambassadors, our aims are to educate, preserve and recollect the richness of our national heritage through music and dance.
Kenya is a multiple cultural country with more than 42 different ethnicities anddance ensemble performance represents dances and
music from most of this tribes.
Our show is colourd with traditionally designed costumes, made from skins from domestic animals such as cow, goat, camel and sheep.

Experience:
- The troupe has participated in Vihiga cultural festival in Western province of Kenya.
- The troupe has also participated in different state events in Kenya.
- Dancers have also actively and annually involved its self in different projects like HIV AND AIDS awareness programmes and other community projects.
- In the year 2009, Nairobi Dancers participated in different folk festivals in France, organized by festival international
de montignac France.

This festivals includes
2 Festival C.I.O.F.F de Romans
3 Festival C.I.O.F.F de d'issoire
4 Festival international de Montignac
5 Festival folklore de Sarran
Festival de oloron st Marie
6 Festival international de pujols
7 Festival de ploszevet.

- In July - September 2010, we participated in different
folk festivals in Spain and Portugal, organized by (C.I.O.F.F) Spain.
This festivals includes,
1 Festival international de musica,"Folk del Mundo" in jaen 1st-7th July Spain
2 Festival Folklorico internacional "City of Cadiz" 7th-13th Spain
3 Festival Internacional de Folklore in Ciudad Real 13th-20th Spain
4 Festival internacional folklorico de Extremadura in Badajoz 21st-29th Spain
- Internacional Folk Festival Ponte de Mouro e Alvarinho, Portugal 2nd-8th August
- Xornadas de ourense 9th-19th August Spain
- Festival Internacional de Folklore "Ciudade de A Coruna" 19th-24th August Spain
- Mostra International de Folklore de Teruel 25th-30th August Spain
- Internacional Folk Festival do Alto Minho- Viana do Castelo Portugal 31st-6th September
- Internacional Festival de Folklore en el Mediterraneo in Murcia Spain 7th-10th September
- Festival internacional de Folklore "Ciudad de Lorca" 14th-19th September
- In July and August 2011
Festival International de Gannat France,
Festival terranostra Apiro Italy,
Festival del Cuori, Tarcento Italy.
- Italian tour from 28th July 2012 to 27th August 2012, Organized by International festival Alto minho Minturno Italy.
- Festival International del Matellica Italy
- Festival del Cori
- Festival in Sardinia,
- Festival de St Ginessio
- Festival de Gorizia.