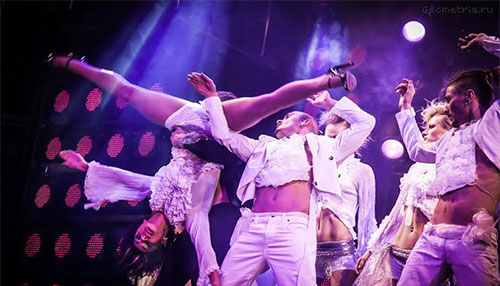 Dance crew is a professional team, working in a modern dance style. Combines choreography and theatrical stunts this crew repeatedly worked with Ukrainian, Russian and europenian singers and performers, took a part in a lot of TV shows and dance projects.

Professional artists and dancers working in this team have diplomas and certificates of high education graduated from leading universities, also every team member have an experience and have enough physical training for high-quality work.

Show Ballet has it's own full entertainment program and separate performances. The concept of performances based on variety and logically constructed drama and storyline in choreography.

Qualifications save explanations when the dancers quickly and easily preparing
the show thematically satisfying a customer.

Choreographer had both experience - as a dancer and as a stage producer-director

It gives him the opportunity to choose the most appropriate theme for the statement and quickly materialize it into reality.

Distinguishing feature of team has the dancers of the original genre. Equilibrists, jugglers, acrobatic duet, aerialist and trapeze artists also take a part in performances.

The concept of the show can be divided into categories:

- Acrobatic show;
- Acrobats;
- dance show;
- Circus show;

Originally and thoroughly selected costumes for the whole repertoire , designed by stylists and artists emphasize.

This crew has success in Ukraine and abroad, regardless of age and social status of the audience.